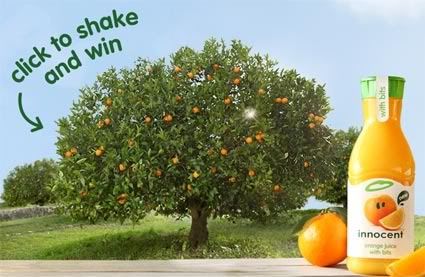 To celebrate the arrival of their brand new orange juice in the shops, Innocent - who you'll probably know more for their Smoothies and Veg Pots - have created a magic tree that is guaranteed to give you goodies if you shake it. You may get free juice, money off vouchers, a lovely hamper or, if you're really lucky, you could win the fabulous star prize of £1000 !
I've just given it a go and won ... well, I'm not actually sure because it got blocked by my pop-up blocker but it's a voucher so will either be for some free juice or a money-off voucher. What I really love is that if you haven't got a printer, you can request the voucher by mail.
All together now .. A-ga-doo-doo-doo, push pineapple, shake a tree ! Let me know what you win and good luck !
Other blogposts you may be interested in :