If you're heading off to the Imperial War Museum North over Easter (or even if you're not and you just want to keep the kids occupied for ten minutes while you have a cuppa !), you might like these fun worksheets based around the theme of Child Evacuation. Click on the pictures to get a bigger image that you can print out. And scroll down to discover more about what's going on at the museum at the moment ...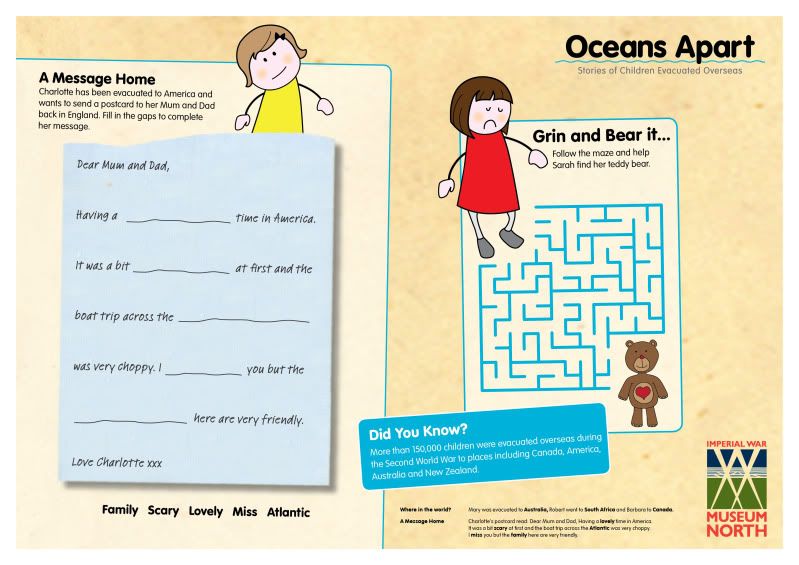 FAMILIES TO STEP BACK IN TIME TO THE SECOND WORLD WAR THIS EASTER AT IMPERIAL WAR MUSEUM NORTH
FREE ENTRY: DONATIONS WELCOME
What was the Second World War like for children and families? This Easter at Imperial War Museum North, join in with free interactive activities and explore the stories of children evacuated thousands of miles overseas in the new Oceans Apart display.
Children are encouraged to come to the Museum dressed in 1940s costume to fully immerse themselves in the era and imagine life as an overseas evacuee. Every child who arrives dressed as an evacuee over the Easter Bank Holiday weekend Friday 22 April – Monday 25 April) can collect their free bouncy rations egg from the gift shop.
Visit any afternoon of the school Easter holidays to join free storytelling and object handling sessions. You can even embrace the Make Do and Mend spirit by creating your own evacuee's toy or postcard.
On 16 April, celebrate the efforts of evacuees who left the cities and learned to Dig For Victory. At the launch of the Big Six Week Veg Challenge, come along to sow some seeds, sign up for the challenge and take away your free greenfingers starter pack.
Oceans Apart: Stories of children evacuated overseas is an intriguing display for families. During the Second World War thousands of children living in towns and cities in Britain were evacuated to safer places in the countryside, but it is less well-known that more than 15,000 evacuees were also sent thousands of miles across the sea to other countries. See personal accounts, letters and photographs, revealing the story of children who were sent to stay with family overseas. Imagine the overwhelming dilemma parents faced when deciding to send their children so far from home.
The display tells the story of children like Joan Zilva, from Croydon, and Donald Mitchell, from Colne in Lancashire, as they dealt with homesickness and the difficulties of adjusting to a new way of life in a strange home in a far away country.
Children can also follow the trail through our Main Exhibition Space to discover even more stories. Find the doll that was given to one evacuee from Manchester for her first Christmas away from home. Visitors can also buy wartime children's toys like the cup and ball and the spinning top from the Museum shop.
Jim Forrester, Imperial War Museum North Director, said: 'This Easter at Imperial War Museum North, families can discover more about the children who were sent thousands of miles overseas during the Second World War. Come dressed up and win a prize, or just come and take part in our story-telling and craft activities and see the children's stories in the Oceans Apart display.'
From 16 April, the Museum is also presenting a car destroyed in the bombing of a Baghdad book market, a new exhibit with Turner prize winning artist Jeremy Deller called Baghdad, 5 March 2007.
FREE EASTER ACTIVITIES
Imperial War Museum North
Open 7 days a week from 10am - 5pm with free admission
The Quays, Trafford Wharf Road, Manchester M17 1TZ (close to Harbour City and MediaCity Metrolink and Junction 9 of the M60)
T: 0161 836 4000
E:iwmnorth@iwm.org.uk
Other reviews you may be interested in :