As we're in the grip of a heatwave at the moment, I seem to be spending my whole time running around refilling glasses, sippy cups and bottles to keep the kids hydrated. I therefore thought it was perfect timing when I was emailed about this fun app that aims to encourage you to think about drinking enough. Best of all, it's free ! Read on for more info.
******************************************************
Thirsty Pete app launched to address issue of hydration in UK
New app asks – are you drinking enough water?
The Danone Waters funded 'Hydration for Health Initiative' has launched its first ever iPhone app called 'Thirsty Pete'. Created for all ages, the free app - available on iTunes now - is a soft learning game to teach users about the physical and mental benefits of regular hydration.
The character Thirsty Pete is a friendly water droplet that lives on your iPhone. To keep Pete alive the user must feed him glasses of water which can only be obtained by correctly answering questions about water and hydration. Failure to keep Pete hydrated makes him unhappy and ultimately causes him to 'evaporate'.
As well as the game element to the app, there is also a 'Wee Checker' where users can see how hydrated Pete is from the colour of his urine ! The app rewards the player for keeping Thirsty Pete alive and healthy as long as possible, and includes tips and advice on how the user can stay well hydrated too.
The app has been created by The Hydration for Health Initiative to raise awareness of the benefits of healthy hydration.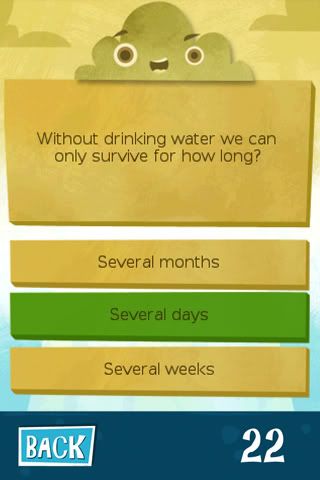 Despite being the most important macro nutrient we consume, an essential component of all body organs and fundamental to basic vital functions, on average, adults in the UK are not drinking enough water daily. Short-term consequences of dehydration include impaired physical and cognitive performance, headaches and raised heart rate. Long-term, not drinking enough water is associated with a range of serious conditions such as kidney stones and urinary tract infections.
"For healthy hydration, what we drink is also vital to tackle," says Liliana Jiménez, PhD, of Danone Research. "Water is the only naturally calorie-free drink, so it's a great choice for keeping well hydrated, and a simple and decisive step towards a healthier lifestyle."
What we drink is as important to our health and well-being as what we eat, and yet this part of our daily diet receives little attention in nutritional guidelines or patient advice. The Hydration for Health Initiative aims to encourage more widespread advocacy of healthy hydration to the general public.
You can also watch the youtube video to find out more :
Other reviews you may be interested in :
Bio Synergy Skinny Water
Robinson's Double Concentrate Squash