Child-proofing a home when your babies grow into toddlers is a really important thing to do. Most of the adjustments are quick and easy but the problem is actually managing to spot all of the potentially dangerous things lurking in your home at toddler-level. Blind cords are one danger-area so I thought I'd give you a heads-up about a company giving out free devices to make them safe during Child Safety Week next month. It's the little things that sometimes make all the difference.
*************************************************
To encourage families to ensure their homes are safe, Apollo Blinds - one of the UK's largest suppliers of made-to-measure blinds - is giving away free safety devices during Child Safety Week, 20 to 26 June 2011.
The free giveaway is part of Apollo's national campaign 'Make Blinds Child Safe' to heighten awareness of the strangulation risks associated with unsecured window blind cords.
70 Apollo Blinds stores throughout the UK and Ireland are taking part in the initiative, giving away P-Clips that can be used to secure any looped blind cords already fitted in the home.
Apollo staff are also working with their local communities to get the message out and help parents of young children take action. The message is simple - Looped window blind cords can slip around a child's neck if they fall on to it, or they become entangled in dangling cords. All recent deaths have involved children under the age of four. Fit a cleat hook to keep cords out of reach of climbing children, and make it a habit to tie the blind cord back every time you open the blind.
The BBSA also has some simple guidelines for parents and carers of babies and small children as looped blind cords can pose a potential hazard:
Do not place a child's cot, bed, playpen or high chair near a window so they may reach a blind cord
Do not place furniture near a window that a child could climb on to reach a blind cord
Do make sure that a safety device is fitted to keep the cords taut or out of reach
Apollo Blinds supplies safety clips, cleats and cord/chain tidy options as standard with new blinds, along with safety warnings, and has a range of innovative lifting systems that are totally child safe.
· Cordless Blinds
· Motorised Blinds
· Cord Tensioners
· Wand Controls
· Chain break connectors and safety tassels
Plantation Shutters are also a great option for child safe window dressings.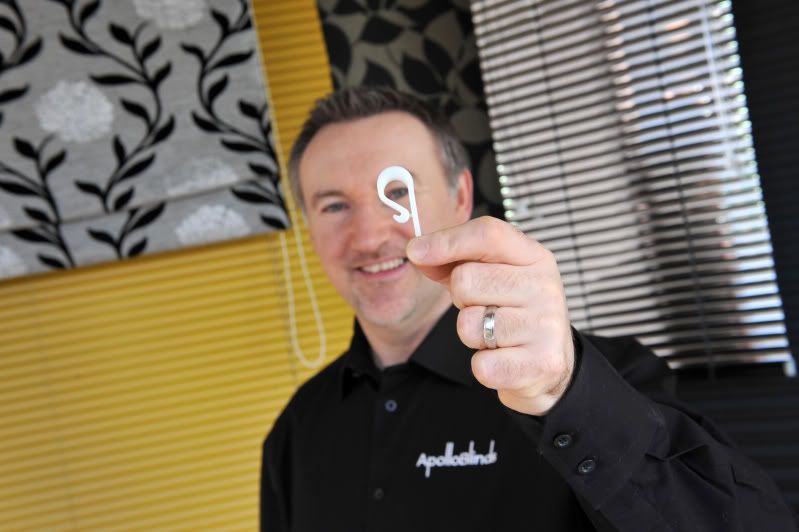 Apollo Blinds works alongside a number of organisations helping to challenge the dangers of unsecured looped blind cords.
The Child Accident Prevention Trust (CAPT)
Child Safety Week aims to raise awareness of the accidents that can injure or kill children, and the steps we can take to prevent them by encouraging families to take positive action and create safer environments.
The British Blinds and Shutter Association (BBSA)
All BBSA members offer safety devices or alternative operating methods on new blinds and can retrofit safety devices to most existing blinds.
Apollo Blind Safety Solutions
· Apollo Blinds is compliant with the child safety aspects of European Standards for internal blinds (EN 13120)
· All Apollo products come with a safety warning sign attached to them to alert customers to the potential dangers of looped cords, and relevant safety devices are supplied with all new products (break-out units on chains, chain retaining P-Clips and cleats for pull cords).
· The free giveaway is subject to availability
Apollo Blinds is part of the Hunter Douglas Group which also operates a child safety at the window scheme.
Other blogposts you may be interested in :