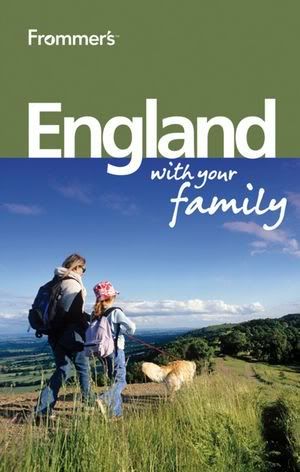 When I was recently approached and asked if I'd like to review any of the special family-friendly guide books from Frommer's, I looked through the list and was very pleased to see Turkey on there. We've already been there once, so we know a little about the country and the Turks' way of life, but we'll be discovering a new region at the beginning of August so I was keen to see what they had to say. But I also asked for the England one too, because I figure the best way to see what a guide book is really worth is to see how it presents your home region that you probably know inside out.
When England With Your Family arrived, I immediately went to the index and looked up Hastings, my home town. Hmm no mention of it at all. That's a bit of a shame, as it has quite a lot to offer for kids, but never mind, on to some of the bigger towns like Brighton. Well, I was quite surprised to see that the whole county of Sussex doesn't get a mention anywhere in the book ! Hmm. OK, on to neighbouring Kent then, and a look at some of the other areas I know well.
I was at first slightly taken aback by the irreverent tone of the book. For example, after discussing the history of Canterbury, they say : "Elsewhere in Kent there are many places that haven't been destroyed and others perhaps that should have been. Not that we are saying Chatham, home to the famous Historic Dockyards, is one of these. OK, we are." Not even a cheeky exclamation mark to fend of the hordes of fuming Chatham-dwellers !
However, within a few pages, I did actually start to really enjoy this cheeky, light-hearted style of writing and, above all, the fact that this is obviously written by real parents who have tried out the attractions with kids in tow and tell it as it is. I laughed out loud at the hilarious (but actually quite accurate - I've been there !) description of Canterbury Cathedral, which includes the statement : "The cathedral, half Gothic and half Romanesque in style, has helpful staff in Blake 7's-style purple sashes to answer any questions and pretend not to see your son trying to pull a poppy wreath to Major E Mannock VC DSO off the wall" !
I really empathise with the story about Leeds Castle, "where our baby son Charlie slid under the table that saw the signing of the precursor to the Camp David agreement and refused to come out until he was given - no, not his half of Jerusalem but something harder to obtain - an unbroken breadstick from my wife's handbag" ! I often felt more like I was reading one of the many mummy blogs that I follow rather than reading a guide book, although the personal anecdotes are studded with interesting and useful information about the various sites too, the Leeds Castle write-up (for example) going on to explain that "While it isn't very family friendly inside the castle (buggies are banned - you're given a baby sling nobody knew how to work) and staff are jumpy when orange juice is spilt close to former owner Lady Baillie's precious 1926 ebony floor - the beautiful grounds full of swans and wandering peacocks more than make up for this".
I love the layout of the guide, which makes it really quick and easy to find your way around. Colour coded tabs on the sides of the pages show you the region, but on top of this, each right hand page tab also gives an idea of the town dealt with on each page so a quick flick through will find the exact section you want. As guide books go, it is a bit light on the historical and cultural background but, let's face it, most parents of young kids will be more interested in what the toilets are like and whether they sell chicken nuggets and chips than reading a long-winded account of the place they're visiting.
The Turkey With Your Family guide is more traditional in tone but follows the same easy-to-dip-in-and-out-of layout. For anyone who wants to really discover the culture as well as have a jolly good family holiday, you'll probably need to complete your research online or with a more traditional guide that's heavier on the historical descriptions, but it's given us some great ideas for places to check out next month and also some handy tips, such as knowing that the local taxis only cost about twice as much as the dolmus (overcrowded minibuses). It also taught us that most Turkish water is chlorinated and therefore safe to drink, so we will be checking this out as last time, our hotel told us it wasn't safe to drink the water apart from that bought in bottles. I checked out what they had to say about Bodrum and Yalikavak, which is where we went last time, and the descriptions are concise but accurate.
It's great to find a guide book series that takes into account the special needs of parents travelling with young children and I'll definitely be going through again, armed with a whole buch of post it notes, before we jump on our plane to Turkey at the end of the month.
star rating : 4/5

RRP : £12.99
Other reviews you may be interested in :