A little while ago, I reviewed Patak's Oven Bake Biryani sauce (a review that you can see
here
). If that tickled your fancy, I'm sure you'll love these mouth-watering recipes dreamed up by
Anjali Pathak of Patak's, which sound delicious and may also be good for your health too : "Not only do the recipes look great and taste fantastic, the spices used in my pastes also follow the basic principles of Ayurveda. I've enlisted the help of Dr Deepa Apté, Ayurveda Pura's Clinical Director, to ensure all of my recipes promote good health. Practiced for over 500 years, Ayurveda is all about balanced diets, inner equilibriums and personal wellbeing, all of which help create harmony between our bodies and nature."
*************************************************
Patak's Madras Basted Lamb Cutlets with a Minted Honey and Yoghurt Dip
Serves 4
Ingredients
2 racks of lamb, trimmed
4 tbsp Patak's Madras Paste
2 tbsp oil
Small handful mint leaves, picked
100g Greek style yogurt
Runny honey, to taste
Salt and pepper
Method
1. Rub the Patak's Madras paste into the racks of lamb. Leave to marinate for at least one hour, or overnight if possible and then refrigerate.
2. When ready to cook, sear the racks of lamb over a high heat to seal the meat and render down any fat on its surface. You don't want it to cook through totally – just sear.
3. When seared place in a roasting tin in a 200°c preheated oven and cook for 20-25 minutes until medium rare. They should feel quite firm and springy to the touch. Remove from the oven and rest for 10 minutes.
4. Meanwhile make the dip. Finely chop the mint leaves, add to the yogurt and add the runny honey to taste. Season with salt and pepper.
5. When rested, carve into cutlets and serve with the minted yogurt dip.
Dr Deepa Apte comments
: "According to Ayurveda, the garlic found in Patak's Madras Paste helps this Lamb Cutlets recipe stimulate the nervous, respiratory, digestive and circulatory systems. Even a small amount of this powerful, rejuvenative herb will help detoxify your blood and lymphatic system."
*******************************************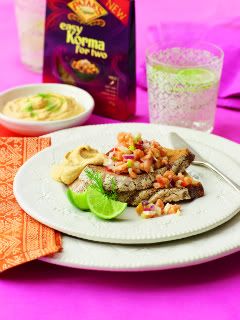 Zingy Salmon Ceviche with Spiced Crème Fraiche and Sourdough Toasts
Serves 4 (as a starter)
Ingredients
1 sachet Patak's Easy Korma Paste
1 tub Crème fraiche
1 fennel bulb, green fronds trimmed and set aside
1 red onion
1 red chilli
600g very fresh raw salmon fillet, skinless and trimmed
2 limes, juiced
A pinch of sugar
A pinch of sea salt
4 thin slices of sourdough bread (Poilane is ideal)
Method
1. To make the spiced crème fraiche: Fry the Patak's Easy Korma Paste over a medium heat for 5 minutes ensuring it doesn't catch or burn. Set aside to cool and when cool mix into the crème fraiche until totally incorporated and set aside.
2. Make the ceviche. Chop the fennel bulb, onion and chilli into very small, fine dice (5mm x5mm). Discard the chilli seeds. Place in a bowl.
3. Make sure the salmon has been trimmed of any darker coloured flesh. You should only use the pink/orange flesh. Chop the salmon into dice, as small as possible. Add to the bowl. Add the lime juice and sugar to taste. Marinate in the refrigerator for 15 minutes. It should start to turn milky in colour.
4. Meanwhile toast the bread.
5. Remove the ceviche from the refrigerator and season with salt to taste. Make a quenelle of the spiced crème fraiche on the side of each plate. Spread a spoonful of the salmon ceviche over the plate so it is spread out and colourful. Garnish with small pieces of the fennel fronds.
6. Serve with the toasts.
Dr Deepa Apte comments
: "Ginger is a universal medicine and most widely known for its detoxifying qualities. The small amount of ginger in Patak's Easy Korma Paste makes this Zingy Salmon recipe good for colds and coughs. It also helps to relieve headaches and pain."
*******************************************
Patak's Balti Spiced Chicken Wings with Zingy Lime Drizzle
Makes 15
Ingredients
1 kg chicken wings
2 tbsp vegetable oil
½ jar Patak's Balti Paste
3 limes, zested and juiced
100g granulated sugar
Coriander, finely chopped
Method
1. Whisk the Patak's Balti Paste and vegetable oil together. Smother over the chicken wings and marinate for at least one hour, or overnight if possible and then refrigerate.
2. Place on the BBQ or in the oven at 200ºc and cook for 25-30 minutes until tender
3. In the meantime make the drizzle. Place the lime juice and sugar in a small saucepan and boil over a medium heat for approximately 10 minutes or until a sugar syrup has formed. It should be the consistency of Vaseline when rubbed between the fingers. When ready, remove from the heat and cool. When cool add the zest.
4. When the chicken wings are cooked, remove from the heat and serve on a platter. Drizzle the 'drizzle' over the wings and garnish with a sprinkle of coriander.
Dr Deepa Apte comments
: "The small amount of coriander found in this paste will help stimulate your digestive, respiratory and urinary system. According to Ayurveda, it's the best household spice for heat related conditions and is effective in alleviating allergies, hay fever and skin rashes"
*****************************************************
Seared Chicken Skewers with Mixed Leaves
Serves 4
Ingredients
2 packs of mini chicken fillets
1 sachet Patak's Easy Tikka Masala Paste
10 soaked skewers
Bag mixed salad
1 lime, juiced
3 tbsp olive oil
Pinch sugar
Lime wedges to garnish
Method
1. In a bowl, marinate the mini chicken fillets in the sachet of Patak's Easy Tikka Masala paste. Place in the refrigerator for at least one hour or overnight if possible.
2. When marinated, thread onto soaked skewers. Cook on the BBQ or on the hob until cooked through and tender.
3. Meanwhile assemble the salad dressing. Mix the lime juice, olive oil and sugar together. Dress the salad and place on the plates. Arrange the skewers over the salad and serve with wedges of lime.
Dr Deepa Apte comments
: "The turmeric in Patak's Easy Tikka Masala Paste helps this Seared Chicken Skewer recipe become an excellent natural antibiotic. It will also help stimulate your digestive, circulatory and respiratory system while helping to purify the blood."
**************************
for more information and recipe ideas :
http://www.pataks.co.uk/recipes/