Now this sounds right up my street - a great way of making sure you get your five a day with a hefty dose of vodka or rum thrown in ! Grab yourself a moment of me-time for these funky and (semi !) healthy mother's day cocktails - you deserve it ! :-)
**********************************************************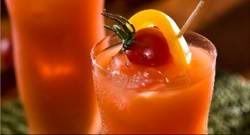 This invigorating concoction of vegetable juices pepped up with vodka is a fresh and fruity take on a classic smoothie. Lovely for mothers who want who want a sip of spring.
Ingredients
30ml vodka
Dash Worchester sauce
3 thin slices of fresh ginger
30ml fresh lemon juice
1 tsp agave nectar
60ml tomato juice
60ml carrot juice
Method
1. Muddle ginger slices in the bottom of a shaker glass. Add a dash of lemon juice to help make it easier to muddle. Add all other ingredients. Fill shaker with ice and shake for approximately 5 seconds.
2. Strain into a tall ice-filled glass and garish with a cherry tomato and yellow pepper.
Very Berry Brazilian Cocktail
A mouth-watering combination of strawberries muddled with Cahaca and cinna, this delicious cocktail is perfect for Mum's who like their strawberries 'sans' cream.
Ingredients
45 ml Brazilian Rum
3 Strawberries
1 tsp. agave nectar
Two dashes ground cinnamon
Method
1. Muddle the strawberries, agave and cinnamon in the bottom of a shaker glass. Add ice and Cachaca. Shake well and strain into a large rocks glass