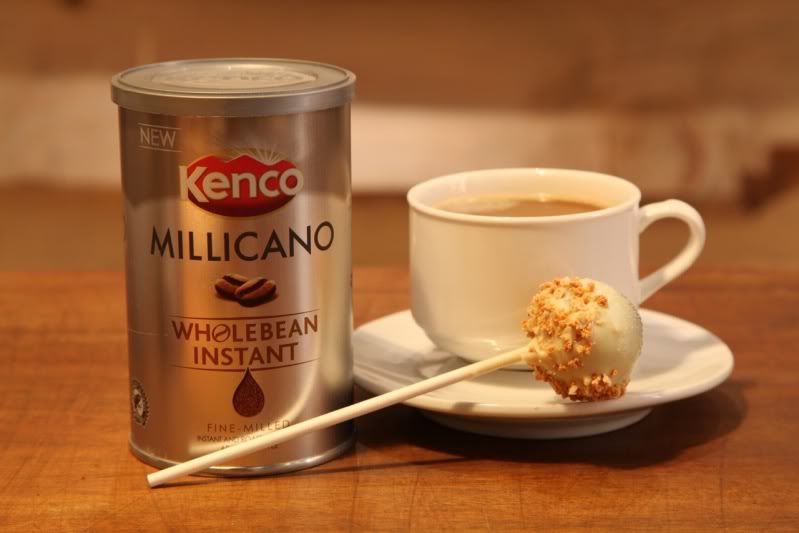 To celebrate the launch of Kenco's first-ever Wholebean Instant coffee - Kenco Millicano (which I reviewed
here
) - Kenco has teamed up with Master Pâtissier Eric Lanlard and designer Patrick Cox to create the ultimate coffee accessory; the Kenco Millicano 'Cake Pop', a wonderful twist on the hugely fashionable 'cake pop' trend.
Eric and Patrick – the expert names behind the highly celebrated Soho bakery, Cox Cookies & Cake in London – stopped at nothing to find the perfect recipe to accompany the closest thing to 'proper' coffee in an instant. Taking the smooth, full-bodied taste and rich aroma of Kenco Millicano and using a delectable combination of chocolate and Italian cherry sponge, white chocolate and crunchy biscotti crumbs, the Kenco Millicano 'Cake Pop' enhances the new coffee experience with every single mouthful; think of it as the perfect pair of shoes to complement the perfect outfit!

Designer Patrick Cox who made his mark in designer footwear commented: "Eric and I could see that this extraordinary new coffee deserved an extraordinary accompaniment – and we absolutely relished the creative challenge". French Pâtissier Eric Lanlard, whose A-list clients include Madonna and Sir Elton John, continued: "The flavours and aromas of Kenco Millicano are incredibly enticing and lend themselves perfectly to the cake pop that we have created. Try them both together by dipping it into your Kenco Millicano and you'll see exactly what I mean."
Sam Greenwood, Senior Brand Manager for Kenco commented: "We are so excited to be working alongside Patrick and Eric and we're thrilled with the delicious Kenco Millicano 'Cake Pop' that they have made especially for the launch of Kenco Millicano! It's a wonderful accompaniment!"
I can't wait to try these out, but let me know how you get on if you beat me to it !
************************************
Kenco Millicano 'Cake Pop'
Ingredients (recipe makes x20 cake pops)
425g tin of pitted cherries (sweet) in juice
100g dark chocolate - coarsely chopped
165g unsalted butter - coarsely chopped
295g caster sugar
60ml cherry brandy
150g plain flour
2 tbsp self-raising flour
2 tbsp cocoa powder
1 egg
Coating and decoration
75g of icing sugar
100g of unsalted butter
50g of cocoa powder
250g of melted white chocolate
100g of biscotti crumbs (or whatever takes your fancy!)
Edible silver glitter (optional)
Method
1. Pre-heat the oven to 180˚C
2. Line a square 8" tray with butter and baking paper
3. Drain the cherries and set the juice to one side
4. Take 100g of cherries and 120ml of juice and liquify in a food processor, until smooth
5. Cut the remaining cherries in half and set to one side. Discard the remaining juice
6. Place the chocolate, butter, sugar, brandy and cherry puree into a saucepan. Over a low heat, stir until the chocolate has melted
7. Pour into a large bowl and allow to cool for 15 minutes
8. Whisk in sifted flours and cocoa powder, then whisk in the egg. It will be runny - but don't worry. That's how it's meant to look!
9. Pour the mixture into the pan and bake for 40-45 minutes, or until firm to touch
10. Allow to cool for a few minutes and then transfer to a cooling rack
Coating and decoration
1. In a large bowl, whisk the butter, cocoa and icing sugar into a nice, smooth frosting
2. In a separate bowl crumble the sponge into very fine crumbs
3. Rub in the chocolate frosting until you get the consistency of a paste
4. Using the palms of your hands, roll into little perfect balls and place on a tray
5. Leave to set in the fridge for 30mins
6. Dip the end of the stick in the melted white chocolate and push halfway through the chilled balls
7. Now dip the entire ball into the white chocolate. Leave to drip before rolling in the biscotti crumbs
8. Before the chocolate sets completely, drizzle a bit of edible silver glitter onto the ball and enjoy with a mug of Kenco Millicano!
*Nutritional information per serving (96g): Energy 355kcal, Protein 4.2g, Carbohydrate 44.1g (of which sugars 34.1g), Fat 18.3g (of which saturated 11.2g)
Other blogposts you may be interested in :