I was recently asked if I'd like to try out Dukan Shirataki noodles which contain zero carbs, are gluten-free and contain virtually ZERO calories! Well, to be perfectly honest, that sounded far too good to be true, but I was intrigued so I said that I'd be happy to give them a go.
I wasn't really sure what to expect but Shirataki noodles are thin, low carb, translucent,traditional Japanese noodles. They are made from yam flour, which comes from the roots of the yam-like Konjac plant grown in Japan and China. In texture, they remind me of the rice vermicelli that we used in our
Saigon Summer Rolls
and
Pork & Veg Spring Rolls
. These ones come in brine so you need to drain and rinse them before using them. They have a slightly unpleasant fishy smell but I tasted one straight from the pack and it actually tastes of absolutely nothing. As they have a totally neutral taste, they can be used with any sauce you desire, although Asian flavours would work best in my opinion.
I was amazed when I saw the nutritional information on the pack. 200g - that's the whole pack which is plenty for 2 or 3 people - contains 19.2 calories ! They also contain 4.4g of fibre which is probably why they're quite filling.
I used them in some Thai noodle soup which worked really well, although I couldn't decide whether I should use a fork or a spoon to eat it ! I'll share the recipe with you tomorrow. The noodles took literally seconds to warm through, although I left it to simmer for half an hour for the flavours to develop. I wasn't sure if the noodles would go soggy but they didn't change texture at all. They would also be great with sweet and sour chicken or other Chinese or Thai dishes.
I'm trying to lose weight but tend to avoid diet-foods as I prefer to eat "real food" that the whole family enjoys but in sensible portions. My husband ate this soup though and had no qualms about the noodles at all - I didn't tell him about them before serving them ! They're a great low-calorie (or almost no calorie) replacement for regular noodles or instead of rice without losing on taste or texture that I'd be happy to serve to the whole family.
If you're following the Dukan diet, these can be eaten with no limits at all stages of the programme.
star rating : 4.5/5
RRP : £3.30 for 200g
Disclosure : I received the product in order to write an honest review.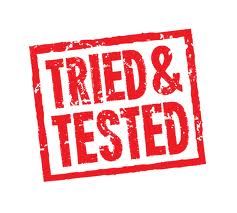 Other blogposts you may be interested in :