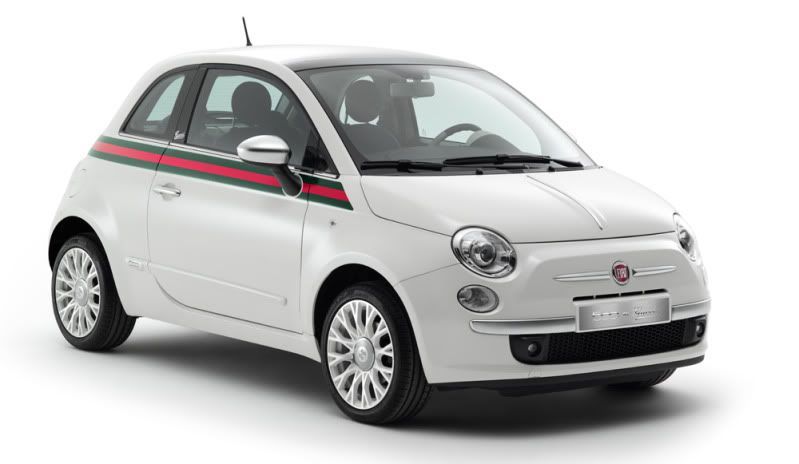 This summer, all eyes won't be on the catwalk to see the newest fashion accessory but on the car park ! To celebrate both the 150th anniversary of the unification of Italy and Gucci's 90th anniversary, the Fiat 500 has been reimagined as the
a special edition of the iconic Fiat 500 customised by Gucci Creative Director Frida Giannini in partnership with Fiat's Centro Stile.



a special edition of the iconic Fiat 500 customised by Gucci Creative Director Frida Giannini in partnership with Fiat's Centro Stile.



a special edition of the iconic Fiat 500 customised by Gucci Creative Director Frida Giannini in partnership with Fiat's Centro
Fiat 500 by Gucci, a special edition of the iconic Fiat 500 customised by Gucci Creative Director Frida Giannini in partnership with Fiat's Centro Stile.
Now, I don't very often get excited about new cars but I have to say I love the design. It has the cuteness and the compactness of the classic Mini (which is great for the environment, in place of fuel-guzzling oversized SUVs and 7-seaters running around with just a driver in them, and also makes it a breeze finding a place to park in busy towns and resorts this summer), and the beautiful rounded curves remind me a bit of the iconic Beetle. The result is a car with real character that won't pass by unnoticed.
But it's not all about looks. This cool collaboration between two of Italy's most respected brands represents the perfect combination of craftsmanship and style. Launched on the opening day of Milan Fashion Week, the 500byGucci was also presented at the Geneva International Auto Show (3-13th March) in a dedicated Gucci pop-up store within the Fiat stand.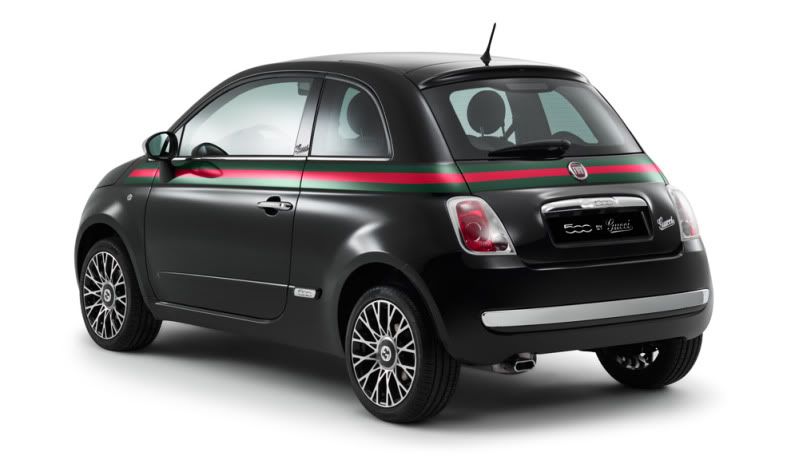 This funky little Italian car will be available in the UK with two brilliant engines: the nimble yet economical 1.2 litre – which will cost £14,565 OTR – and the award-winning 0.9 litre TwinAir, priced at £15,765 OTR. The black and white colours of the 500byGucci, in unique eye-catching glossy pearl glass paint complement one another: black – with detailing in shiny chrome paired with interiors that contrast sharp black and white – for a contemporary and racy feel; white – with satin chrome detailing and ivory and black interiors – for a softer, sophisticated look. I love them both and must admit it would be hard to choose - the black paintwork really makes the green and red stripes stand out but I wonder if the white might reflect the heat more and be the perfect summer car for keeping cool while looking cool !
Fiat 500byGucci will be available in the UK this summer. Initially the new car will be available exclusively online - the fully automated on-line sales scheme allows customers to pay a deposit, order it directly from the factory, track the car's progress, make a final payment and even arrange special delivery of the car to their home. Customers will be able to visit www.fiat.co.uk/500bygucci when it goes live later this month. This is also available as a link from the official www.500bygucci.com website. As a woman, I have to say I really like the idea of buying a car online because I always find car salesmen to be particularly condescending and patronising when it comes to dealing with women buyers !
I'm sometimes a bit sceptical of fashion brands collaborating with other companies but if this new car is anything to go by, they should definitely keep it up ! It's the perfect stylish city runaround for fashionistas to discover new designer boutiques on city breaks over the summer !


Sponsored Post
**** This is a sponsored but nevertheless 100% honest post ! ****