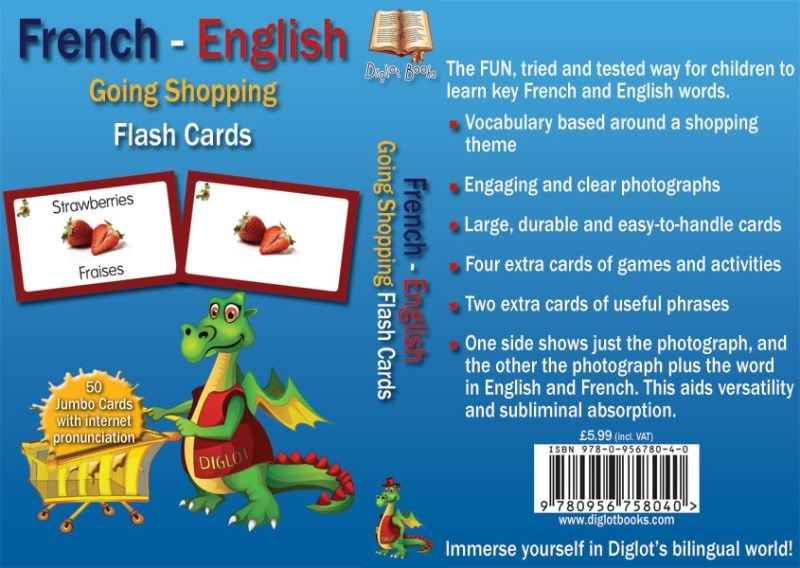 As we live in a bilingual household, 9-year-old Sophie and 6-year-old Juliette speak perfect English and French. However, it's slightly trickier for the written language. I have always been worried about confusing them with different spelling rules for the two languages while they're taking on board grammar and spelling lessons at school so tend to back off for the "second" language, in this case English. We still read and look at English books together and I buy them activity books in English but I just let their spelling mistakes go by without making a big deal out of them - for now !
When I saw a mention of Diglot's Bilingual Children's Books on twitter (@diglotbooks), I was keen to see what they had on offer and even more excited when the opportunity came up to review their bilingual flashcards. Seeing the words side by side in both languages is an easy and natural progression for them and they have both been having great fun giving each other spelling tests and playing memory games.
Even for non-bilingual children, the flashcards are a great introduction to a new language - something the modern generation of kids find totally normal because they are used to watching bilingual cartoon characters like Dora The Explorer and Mi Hao Kailan (or however it's spelt !).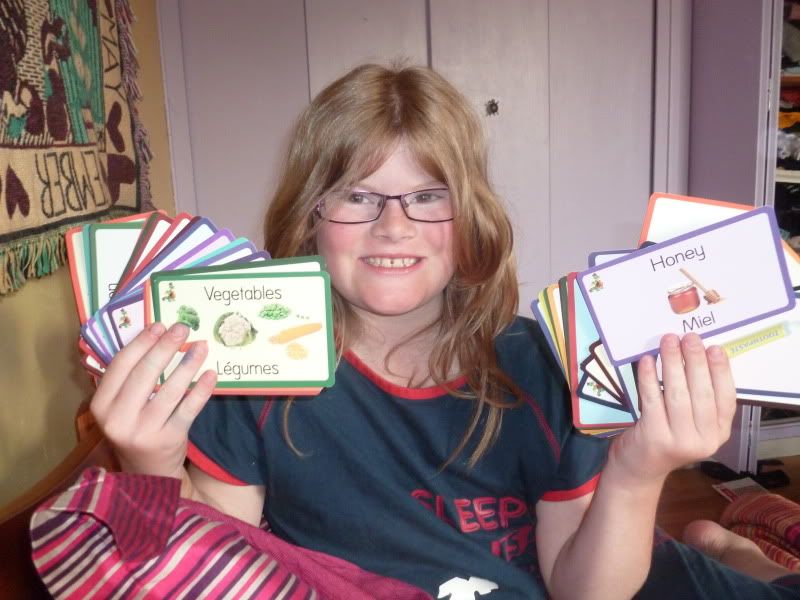 As a teacher, I appreciate the memorisation techniques used - the visual stimulus alongside the written word in both languages on one side and just the image on the other side, so that you can play at trying to remember the words. There are a couple of extra cards in the pack with ideas for games and useful sentences.
Another great bonus is the pronunciation checker on the website, in both English and French. I've checked and the accents are very authentic. This also led to another game - the girls love listening to random words on the computer and racing to be the first to find the matching cards.
I thought the cards would be a bit bigger - most flashcards I use in teaching are A5 size or bigger - but these smaller cards are about double the size of normal playing cards. They're great for little fingers to hold though and even 22-month-old Pierre loves looking at them and passing them around. Luckily they're robust and wipe-clean so I'm happy for him to play too.
I'll definitely be looking at the other products in their online store to see what's available and not just in French - they also have books and flashcards to introduce other languages such as German, Dutch, Swedish, Spanish, Italian and Portuguese. C'est une très bonne idée !
star rating : 4.5/5
RRP : £5.99
Other reviews you may be interested in :