Bathtime here at The Madhouse is always funtime - the kids love splashing about, "swimming", playing hairdressers, making soapy punk hairstyles and playing with their oodles of bath toys. When I was asked if I'd like to review some children's toiletries from H&A, I didn't hesitate for a second, especially when told that they hold the licences for Winnie the Pooh, Disney Princesses & Disney Fairies, Ben 10 and many more. We received a lovely selection of Winnie the Pooh and Disney Princesses products to try out.
Sophie immediately picked out the magic face cloth in a tiny vacuum-packed packet that, when soaked in water, would swell up to a full-sized flannel. We have had one of these before and it was really poor quality, extremely thin and became rough and threadbare after a few months' use. I assumed that this was an essential part of the format, supposing that the thin material was how they got it so small in the pack, so I was really surprised and impressed by the high quality of the Winnie the Pooh flannel that magically appeared. It's thick and soft and feels like a high-end, luxurious face cloth.
Next Juliette chose the Tigger Bubble Bath Skittle, so called because once you've used up all the bubble bath, the empty bottle can be washed out and used as a skittle. That's a fab bit of recycling, if ever there was one ! The fabric Tigger head on the lid of the bottle doesn't come off so you might want to make sure you have dry hands before handling it and keep it out of the way so that it doesn't go all soggy when the splashing in the bath inevitably begins ! I poured a dollop under the running water and was quite impressed by the quantity of bubbles that appeared ... as was Pierre who sat playing with them for ages ! Nobody had any skin flare ups, which is another plus point as both Sophie and Pierre have sensitive skin prone to red patches after using certain harsh bath products.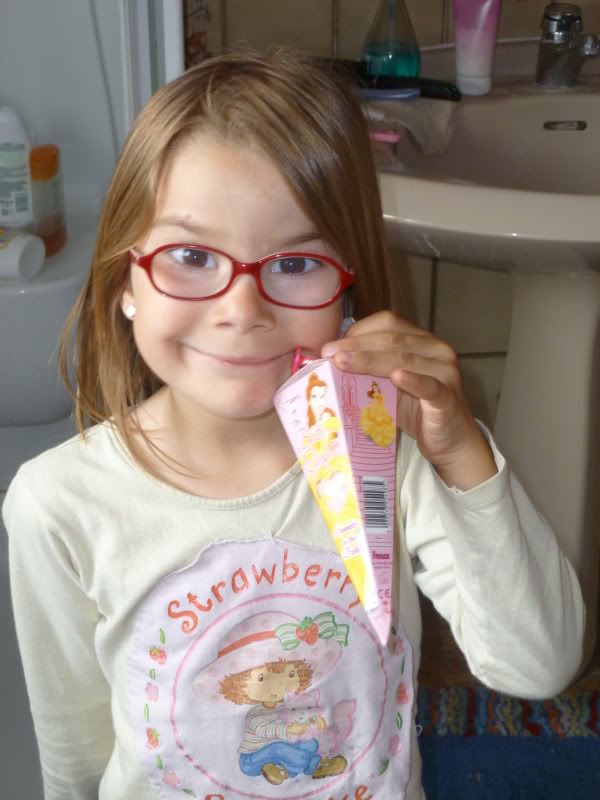 Juliette also wanted to use the Princess Bath Confetti, but I said we'd keep that for next time. We have used bath confetti before though and the girls think it's great fun ! A couple of handy hints - throw it into the bath yourself with dry hands because if your dripping wet children do it, it will just disintegrate into a soggy mess in their hands. Also, if you throw it in the air, try to avoid making it land on their hair as it can be hard to wash out once it's dissolved. Juliette loves the packaging, which looks like a real wedding confetti box, and she was over the moon to discover the pink plastic ring attached to the top of the box.
Sophie loved the squishy gel packs of bubble bath, shaped as Cinderella and Eeyore, which we again put aside for another day. The good thing about these packs is that, once you've squished all the bubble bath out, you can keep the empty packaging as blow up floating bath toys. And, as Sophie pointed out, they look very pretty on the bathroom shelf.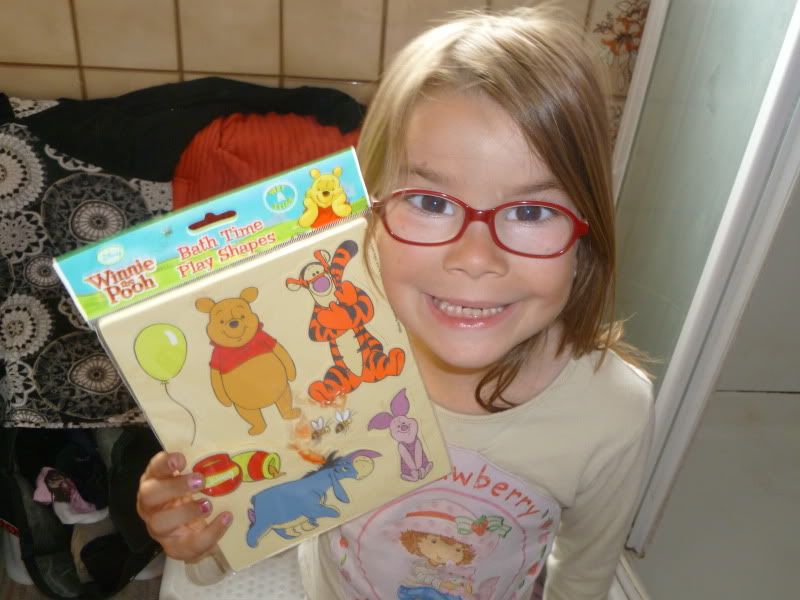 Juliette's favourite product was the Winnie the Pooh Bath Time Play Shapes, press out mousse shapes that promise to stick to the side of the bath or the tiles when wet.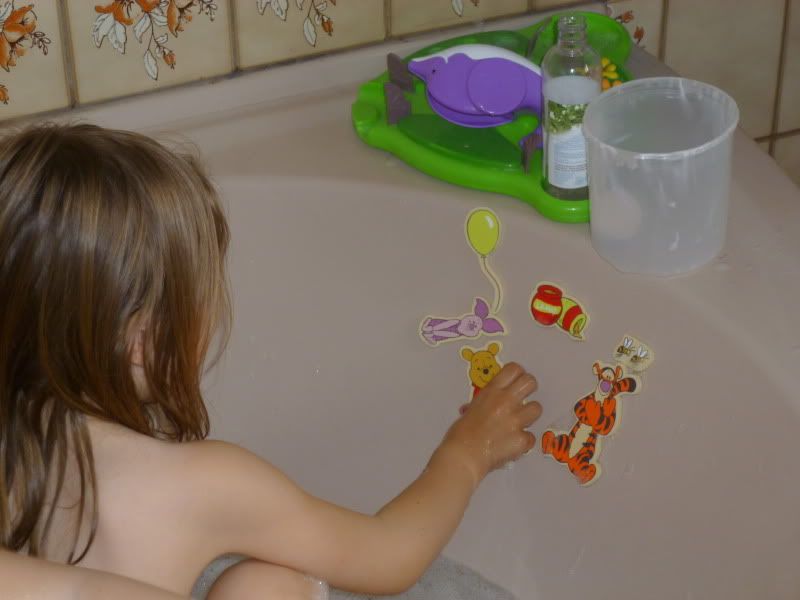 Having tried similar products in the past, I was dubious about how well they would actually stay put because they usually fall off and constantly slip down into the water, but I was proved wrong. They stuck really well, even when being constantly repositioned to make new pictures and scenes.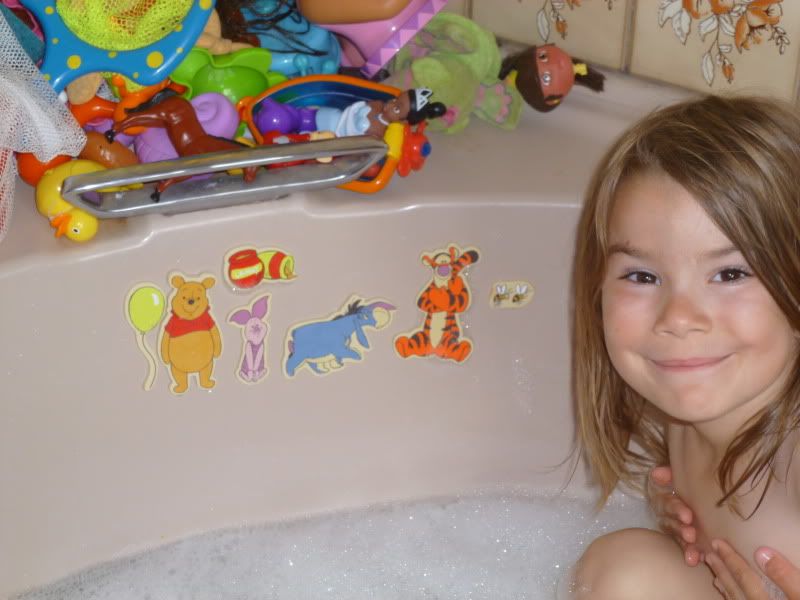 Juliette's face says it all !And I love the fact that they're so much cleaner than the bath crayons that we've been using recently which always end up with me having to scrub the sides of the bath to get the pictures off !
As Matey used to say back in the seventies when I was a kid : Clean Bath, Clean Kids, Clean Fun ! The first thing the girls asked when they got home from school yesterday was could they have another bath ! What more can I possibly add ?!
star rating : 5/5
RRP : Winnie the Pooh bath skittle £3.57
Disney Princess Happily Ever After Bath Confetti £2.04
Disney Princess/Winnie The Pooh Magic Facecloth £2.04
for more information :
Other reviews you may be interested in :