A few weeks ago, we were sent one of these funky Scramble Bug trikes to review. They come in a variety of colours to appeal to all tastes, including pink/purple, green/yellow, orange/black and the birghtly-coloured and very funky red/blue one that we received. 2-year-old Pierre immediately crouched down to look at the friendly insect face on the front and offered it his dummy - instant friendship !
I was immediately impressed with the fact that there is no assembly required - you just pull it out of the box, unfold it and you're ready to go. Pierre certainly was. He climbed straight on and started whizzing around the room, taking us all by surprise ! He has got a push-along chunky plastic trike that you can strap him into but he has no idea how to pedal it or push it along with his feet, and he has got a ride-on pusher but he's all wobbly and can't manage to balance very well on it so you constantly have to stay by his side so he won't fall off. I'm not entirely sure why he was so at ease on the Scramble Bug but I can only assume it's partly because it's so light and easy to manoeuver, partly because it seems lower and narrower so it's easier for him to get on and off, and partly because the wheels are castors that turn 360° so he has total freedom of movement and doesn't go wobbly when he's trying to go around a tight corner where fixed wheels don't want to follow. Also the lack of pedals makes it dead easy to get around.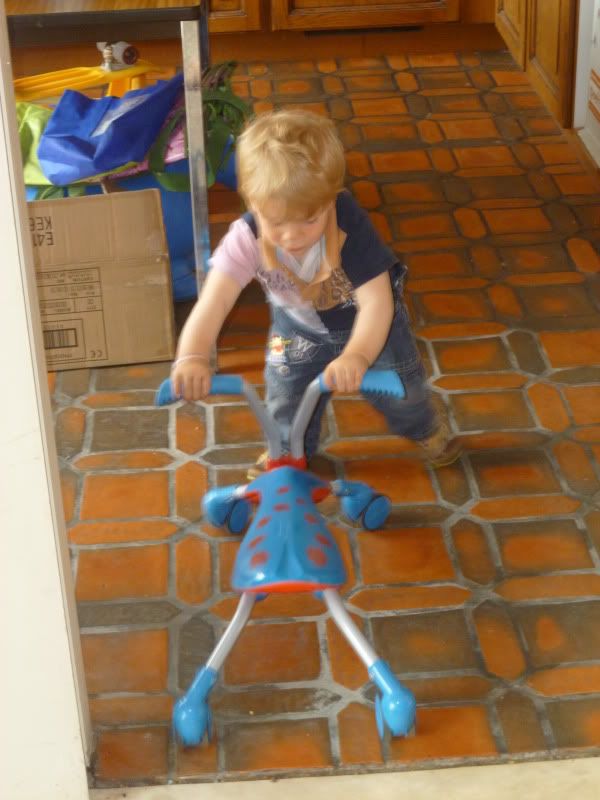 I also laughed and told Pierre that he was doing it wrong because he loves equally well riding it but also pushing it around the table and the kitchen in front of him. But it turns out I was wrong and he was quite right - it's all part of the design ! The manufacturers say it's "a great way to take children from a baby walker to ride-on" and it "helps further develop pushing and steering skills".
It's extremely stable, both when your little tots are riding on it but also climbing on and off, and it seems very sturdy and robust. It can be folded up easily, for transportation or storage, and as it only weighs 2.5kg, it's a great toy for taking on holiday with you.
In 2008, the QuickSmart Scramble Bug was awarded an Australian Design Mark for design excellence. I have to say I can see why - Pierre has adopted it as his bosom buddy and won't let it out of his sight ! It's designed for children aged 1-3 years, up to 20kg/44lbs in weight - but 6-year-old big sister Juliette is constantly asking to have a go on it and sometimes has a sneaky ride around on it when I - and more importantly Pierre ! - isn't looking !
star rating : 5/5
RRP : £39.99 (or £26.99 on amazon)
Other reviews you may be interested in :