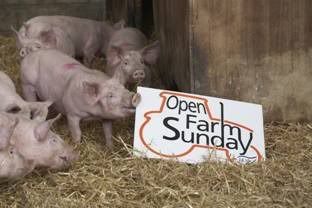 I blogged a little while ago (
here
) about Open Farm Sunday, when farms across the country throw open their (barn) doors and welcome you in to meet the animals and see what goes on behind the scenes in Britain's farms. Well, just to remind you, it's this Sunday - the 12th June. While you're there, make sure you check out these two great competitions for the kids. Read on for more info :
***********************************************
The NFU has teamed up with leading toy manufacturer Britains to give thousands of children who love the countryside the chance to win a mini farm of their own.
Two competitions – a national poetry challenge and colouring-in contest - will be launched at this year's LEAF Open Farm Sunday before being promoted at farm shops, in schools and by the NFU Let's Talk Farming roadshow.
The poetry competition is open to 8 to 12 year-olds across England and Wales, while a farm scene colouring-in contest aims to engage 4 to 7 year olds. Winners of each challenge in eight regions across England and Wales will receive £100 worth of Britains Farm Toys.
NFU campaigns and events officer Jon Chinery said: "We know thousands of children are fanatical about life on farms and the British countryside so we hope this competition lets them show their creative side.

"Open Farm Sunday is an ideal launch pad for this initiative as it is sometimes the first experience for many young people of the world behind the farm gates. The NFU Let's Talk Farming roadshow will visit more than 80 county shows, schools and town centres this year and is another great way to promote the competitions."
The Let's Talk Farming roadshow features Annabelle the model dairy cow, a farmland stage with Astroturf floor, landscape backdrop with video footage of farm animals, tractors and crops, straw bale and cow-hide seats.
Craig Varley, Learning Curve's Director of Marketing for OEM & Farm, said: "Following the success of Britains partnership with the NFU last year we're excited to be supporting the Open Farm Sunday campaign once again and hope that our involvement will actively encourage children to engage in farm play as well as take an active interest in the country they live in.
"This year we'll also have a presence at the NFU roadshows to inspire children to really get involved and articulate this through drawings, colourings and poems. We're looking forward to seeing just what they make of their experiences."
LEAF Open Farm Sunday takes place on Sunday June 12, 2011
Other blogposts you may be interested in :