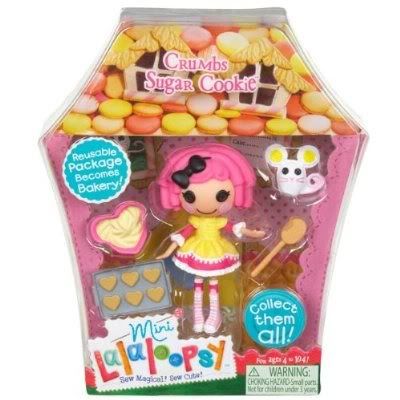 Now, I don't know why but I just can't get my head around Lalaloopsy, the name of this range of cute collectible dolls. I keep saying Lollapalooza which is a music festival, so Sophie tried to help out by saying "just think Lala like the Teletubby then loopy like you are". Hmmm thanks !!
These Mini Lalaloopsy dolls are scaled down versions of the original Lalaloopsy dolls which also look very cute. The manufacturer explains : "Lalaloopsy dolls were once just ordinary rag dolls, but when the last stitch was sewn to complete them they magically came to life, taking on the personalities of the fabrics used to make them. Ready to be loved, each Lalaloopsy character was sewn on a special day in history, which reflects their personality."
The mini Lalaloopsy dolls are only 3 inches tall but they have really intricate details. In keeping with the original rag dolls, the mini plastic dolls still have features designed to look hand-sewn with buttons for eyes and pink patches for cheeks. They are very cute and girly but not overly babyish, probably appealing more to tweens who want to collect them than really small girls who'd want to play with them. They have moveable arms, legs and heads so they're fully poseable.
Each mini doll also has an even tinier animal friend, with the same intricate attention to detail and fake hand-sewn look. They also come with teeny-tiny accessories - for our doll, a wooden spoon, cake mould, baking tray and tiny heart-shaped cookies - which I'm sure will eventually end up in the hoover !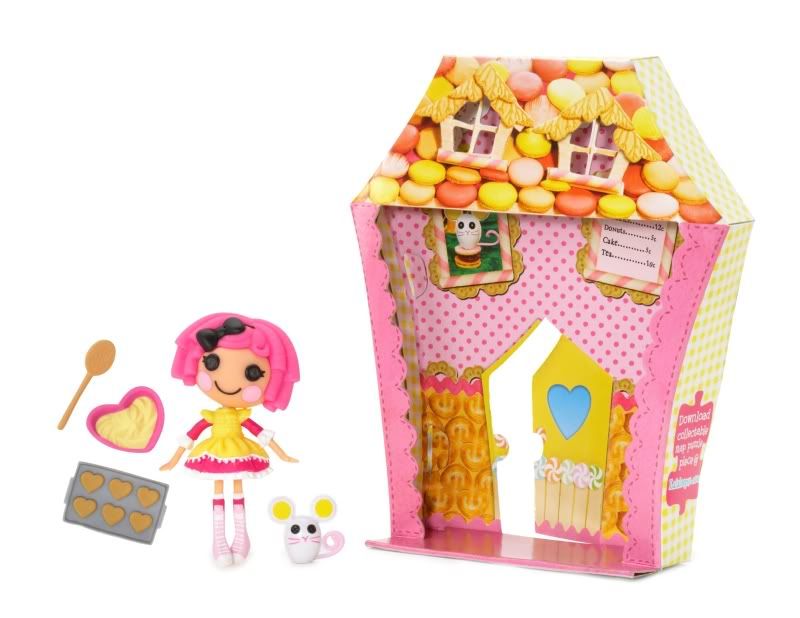 Sophie excitedly pointed out that the packaging is very eco-friendly because it turns into a playset, becoming a cute bakery backdrop for your doll and accessories to be set out in. The whole Lalaloopsy idea reminds me very much of Polly Pocket, with dolls and playsets available to add to your collection. For the amount of plastic in it, it seems quite expensive but I know little girls will absolutely love it and want to build up a whole Lalaloopsy world.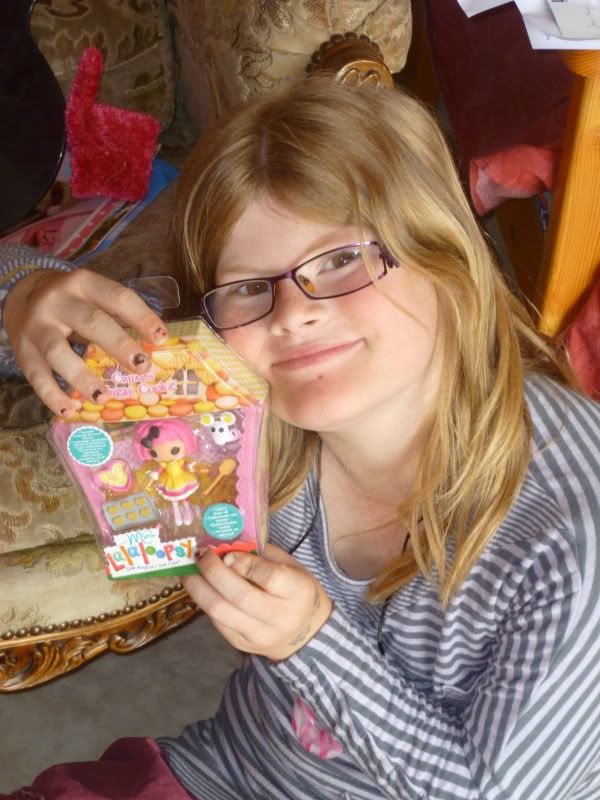 Speaking of which, you can also visit an online Lalaloopsy world. They say : "Girls can also visit the colourful 3D world of Lalaloopsy™ at
http://www.lalaloopsy.com/
where Lalaloopsy™ magic is everywhere! Houses are askew, animals are unusual sizes and colours, and everything is made from fabrics, buttons and thread." As they say, it's sew magical and sew cute !
star rating : 4/5
RRP : dolls £5.99, playsets £9.99
Other reviews you may be interested in :