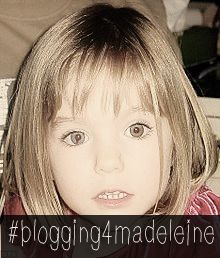 I have a work colleague with a daughter called Madeleine who she often talks about. I also have a PR contact called Maddie who I worked closely with last year and exchanged numerous emails with. Nevertheless, every time I hear the name Maddie or Madeleine, I can't help but think of the tragic plight of little Maddie McCann whose story touched the nation. She disappeared from her parents' holiday apartment in Praia da Luz, Portugal, on Thursday 3rd May 2007 when she was just three years old. That's six years ago. I'm sure many people are thinking it's too late to keep hoping she'll be found, but, as the shocking tale that hit the headlines this week in America proved, miracles do happen. Amanda Berry, 26, Gina DeJesus, 23, and Michele Knight, 32, were kidnapped over nine years ago. Their families never gave up hope, however unlikely it seemed that they would be reunited, and their prayers have finally been answered.
Today is Madeleine McCann's 10th birthday. Maddie was the same age as Pierre when she went missing. She's almost the same age as Sophie now. Seeing the huge difference between them just brings it all home even more. I'm sure seeing the happy outcome of the Cleveland girls' story just makes it even harder for Maddie's family to get through what should be such a special day.
To mark the occasion, the #Blogging4Madeleine campaign has been created to remind people across the world that Madeleine McCann, but also thousands of other children across the globe, still need us to be looking out for them.

Happy birthday Maddie, wherever you are.
Even if you're not absolutely 100% sure, any sightings of or information about Maddy or the other children that you can find out about on the
Missing Kids UK website
can be reported to your local police force immediately, AND +44 845 838 4699 or investigation@findmadeleine.com OR Crimestoppers in confidence on 0800 555111 or
www.crimestoppers-uk.org
.
To find out more about the #Blogging4Madeleine campaign, head over to
BritMums
.
Other blogposts you may be interested in :