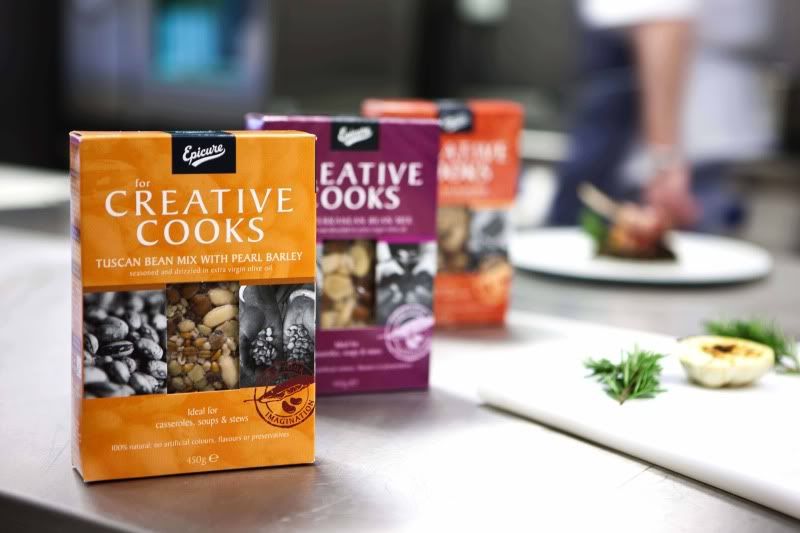 Last night, on the spur of the moment, I decided to try cooking chilli con carne in the Tefal Actifry, the latest gadget that we'd received to review and that I've been having great fun roadtesting. (You can see how it worked out
here
). I grabbed the fresh veggies from the fridge, opened up the minced beef that I'd defrosted then went to the cupboard for the red kidney beans and tinned tomatoes. Aaagghhh no red kidney beans ! How can you make a decent chilli con carne without a tin of red kidney beans ?! Well, the answer is, with a pack of Epicure Creative Cooks Bean Mix that I had also been sent to review ! (You might remember that I reviewed their wine reductions
here
last week too.)
There are three different bean mixes to choose from :
Mediterranean
(which contains cannellini beans, borlotti beans, broad beans, lentils, chick peas, celery, onion, extra virgin olive oil, salt and water) ;
Tuscan Bean Mix with Pearl Barley
(a mix of cannellini beans, borlotti beans, lentils, peas, pearl barley, pearl spelt, celery, onion, extra virgin olive oil, salt and water) and
Rustic Six Bean Mix
(borlotti beans, cannellini beans, haricot beans, blackeye beans, red kidney beans, black beans, celery, onion, extra virgin olive oil, salt and water).
The Bean Mixes are precooked, seasoned and drizzled with olive oil so they are ready to eat and use in salads or can be added to soups, stews or casseroles. This is especially good for bulking out meaty dishes or for making hearty vegetarian meals. I opted for the Rustic Six Bean Mix for my chilli con carne because it contains red kidney beans.
Inside the box, you get a plastic sealed sachet which you cut open and the beans are ready to go. None of that scuzzy red gellified muck that you find in the bottom of cans of red kidney beans and that makes my skin crawl ! No rinsing required at all so they're perfect for throwing together a hasty supper.
This was the end result of my Actifry chilli con carne using the Rustic Bean mix and very nice it was too. The beans are tooth-tender but not mushy and the girls absolutely loved it when I told them they were eating the Black Eyed Peas and fished out a bean with a little black eye to show them ! Even better news is that they count towards your five-a-day too.
I'll definitely be using them again, especially in my slow cooker or when my daughters suddenly spring on me five minutes before dinner that they've invited their friends to stay and I need to bulk out the meat to go a bit further ! I can't wait to try out a version of cassoulet too (which is just a posh name for sausage and bean casserole really !).
The beans are available in 450g boxes in Sainsbury's at £1.99 and in 350g boxes in Waitrose at £1.49.
star rating : 5/5
RRP : £1.49 for 350g, £1.99 for 450g
Other reviews you may be interested in :