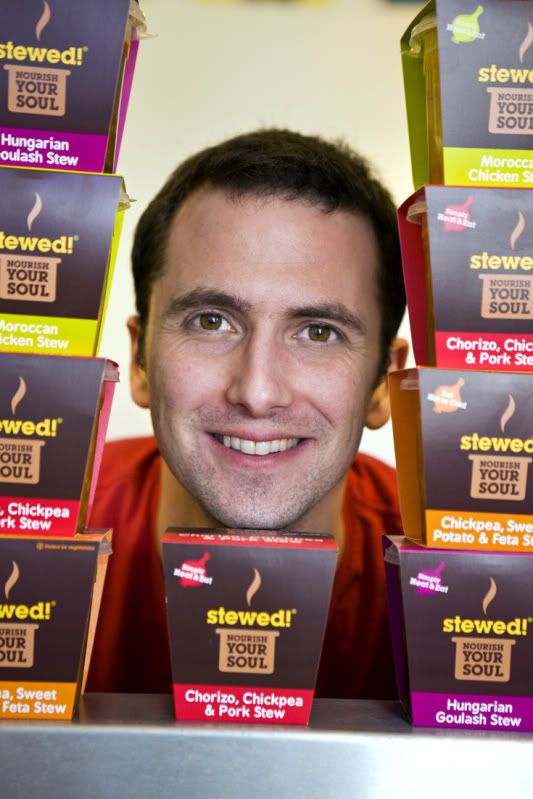 Yesterday, I shared some lovely recipes from Stewed! founder Alan Rosenthal with you (right
here
) and reviewed their lovely, not to mention extremely convenient, pots of goodness (
here
) and I've just uncovered another gorgeous recipe to share with you. Time to get the slow cooker out again !
*************************************
Alan Rosenthal's IRISH STEW
Alan says : "A stew cookbook really couldn't exist without a good old Irish stew. The following recipe certainly isn't the only way to make this grandfather of stews, in fact there are countless variations. I've chosen to use lamb but some people prefer beef; some add turnips and parsnips, I've just gone for carrots and potatoes. Some cook it in the oven, layered like a Lancashire hotpot, but I like it on the hob just as my mum did it when I was a kid - and here it is."
Serves 4-6
1.2kg middle neck lamb chops, trim off as much fat as possible and reserve
salt and freshly ground black pepper
2 bay leaves
4 tbsp pearl barley
2 onions, sliced
2 garlic cloves, roughly chopped
3 carrots, roughly chopped (keep them chunky)
500g floury potatoes, peeled and cut into roast potato-sized chunks
To serve:
chopped fresh parsley
Heat a few of the fat trimmings from the lamb in a large non-stick frying pan.
Once they've melted, season the chops with salt and black pepper, brown them on both sides for 2-3 minutes in batches, then transfer them to a deep, heavy based pan. Once all the chops have been browned, cover them with cold water in the deep pan. Pop in the bay leaves and bring to the boil. Reduce the heat and simmer gently, skimming off any fat and scum that rises to the top using a metal spoon.
After 30 minutes, in a separate small saucepan, cover the barley with cold water and bring to the boil. Once boiling, drain and rinse in cold water before adding to the simmering lamb.
Once the lamb has been cooking for a total of 1 hours, add the onions, garlic, carrots, potatoes, a few generous pinches of salt and some grinds of black pepper. Cook for a further 30 minutes before tasting for seasoning. At this point I like to crush a few of the potatoes into the liquid to thicken it slightly. Serve in big bowls sprinkled with chopped parsley.
For more of Alan Rosenthal's recipes, check out stewed! 80 Irresistible Stews and One-Pot Wonders, Ebury Press (£14.99, hardback). Available from WH Smith, Waterstones and Amazon.com.
Alan is the chef-founder of stewed!, a range of ready-made, premium stews, available in selected Sainsbury's, Waitrose, Budgens and Whistlestop stores and on ocado.com


Other blogposts you may be interested in :