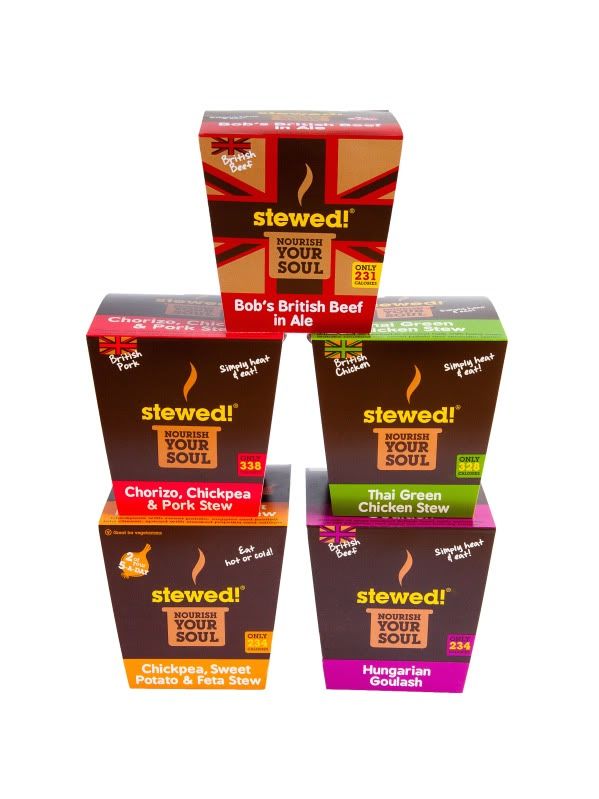 For the last ten days, I've been on a total cookfest, trying out loads of different recipes in the
slow cooker
as well as the
Actifry
,
baking with the kids
and even making ice cream. That's absolutely great when I'm on holiday and have the time and energy to cook from scratch, but when I go back to work on Monday, I know it just won't be feasible.
That's when frozen ready meals and other cooking shortcuts come into their own. And when the lovely people at Stewed! sent me a selection of their little pots of goodness to sample, I was over the moon. They're really quick to prepare but they taste like you've been lovingly slaving away over a hot stove for hours. You can either keep them in the fridge or freeze them so that you always have something tasty at hand at a moment's notice.
There are six exotic flavours in the Stewed! range :
Thai green chicken stew
("cooked in coconut milk with aromatic spices, shitake mushrooms, baby corn and sweet potato. 328 calories / pot") ;
Hungarian goulash
("chunks of slow-cooked British beef with potatoes, sweet paprika, caraway seed, red peppers and kidney beans. 234 calories / pot") ;
chickpea, sweet potato & feta stew
("chickpeas cooked with hearty veggies, smoked paprika and saffron, laced with melted feta cheese and sweet potatoes. Equally good cold as hot. (V) 234 calories / pot");
chorizo chickpea & pork stew
("slow-cooked chunks of tender British pork, lovingly combined with smoky, preservative free Spanish chorizo, chickpeas, some fresh, hearty veggies and smoked paprika. 328 calories / pot") ;
Moroccan chicken
("tasty British chicken cooked with potatoes, zingy preserved lemons, green olives and exotic spices. 322 calories / pot");
and the new arrival,
Bob's British Beef in Ale
("British Beef slow-cooked to perfection in a rich gravy of Dorset ale, and packed with hearty helpings of carrots, swede, parsnip and tomato. 231 calories / pot").
There are only two of those recipes that I make on a regular basis - goulash and beef in ale - and I have to say, they are as good as my homemade versions. In fact, the little pots are so full of big chunks of meat and vegetables that you could easily pass them off as homemade food !
The chickpea, sweet potato & feta combination is not something I'd usually think of putting together but it really works and, obviously, makes a brilliant vegetarian option. The chorizo, chickpea & pork is, again, a combination that I wouldn't have dreamed up but the flavours blend really well together. The Thai green curry stew will transport your tastebuds across the oceans with its really authentic flavour that is perfectly balanced, with the main flavours of coriander, coconut and lime perfectly complementing each other. Yum !
If you need a portable dish that you can reheat quickly on your lunch break at work, you can eat a Stewed!pot on its own for a satisfying lunch, but if you want a more substantial dinner, you can serve the contents of the pot on a bed of rice, which has the added advantage of really soaking up every last molecule of sauce !
I've often reviewed New Covent Garden soups on this blog and love their weird and wonderful flavour combinations, the amazingly fresh and homemade taste of their products and the chunks of recognisable vegetables and meat that show you you're eating wholesome, nutritious food. Stewed! offer exactly the same advantages and I'll definitely be keeping an eye on the supermarket shelves to see if they come up with any new additions to the range (which I'm sure they will).
I love the fact that Stewed! is such a small company too. As they explain : "Stewed! is a dynamic young company founded by 33-year-old entrepreneur and passionate foodie Alan Rosenthal. Stewed! founder Alan Rosenthal quit his job in DVD product management after a stew-reka moment while on the Circle line on his way to work ! He decided to create dishes full-time, and stewed! was an instant success. Giving a modern twist to an old-fashioned dish, with its funky packaging and design, as well as imaginative ingredient combinations, stewed! has taken the supermarkets by storm."
Well, they've also taken The Madhouse by storm !
star rating : 5/5
RRP : £3.79 for 325g
Other reviews you may be interested in :