As I told you yesterday, we received some bags of kale to experiment with and, after making a simple
stir-fried kale with onions and balsamic vinaigrette
, decided to try it in soup. I looked through the cupboards and the fridge to see what would go well with it and decided bacon and beans would work well. We used red kidney beans but any pulses would be fine. Now, I know this doesn't look appetising at all, but trust me - it tasted lovely !
Spicy Kale, Bacon & Bean Soup
ingredients :
2 onions, chopped
2 cloves of garlic, crushed
1 packet of bacon lardons or pancetta
1 bag of kale
1 large tin of red kidney beans
a Knorr Herb Infusions pot
a generous splash of Wahaca smoky chipotle sauce
spices : use whatever you have but we added baharat (Lebanese all spice), onion salt, black pepper, Mexican oregano, ancho chillis
In a large pan, gently fry the bacon pieces, onion and garlic for 5 minutes. Add the kale and continue to cook, stirring, for a few minutes. Add all the spices, then the tinned tomatoes, the drained red kidney beans and a couple of cans of water.
I popped in a Herb Infusion Pot too to add some extra flavour.
Leave to simmer for 1/2 hour. You could leave this chunky, but Madhouse Daddy decided to use a stick blender to make it smooth. The red kidney beans and green kale combined to make a murky brown colour but it tasted gorgeous, especially accompanied with a piece of flowerpot bread still warm from the oven. (More about that in my next blog post !)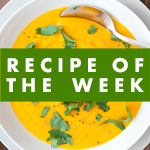 Other blogposts you may be interested in :