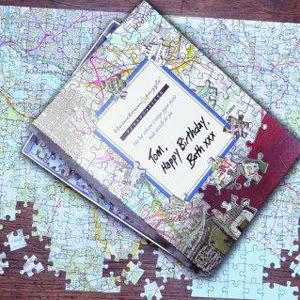 I can tell Valentine's Day is almost here because I've just got back from the shops with armfuls of Barbie-themed paper cups, party bags and Happy Birthday balloons ! Before you think I've gone mad, my daughter Juliette was born on 14th February 2005 ! (At 11.55pm. And I can still hear the midwife saying, "If you want a Valentine's baby, push !")
Well, earlier on today , I posted a blogpost about buying flowers with some wow-factor (rather than ow-factor, when you get a smack round the ear for buying a half-dead bunch of daffs from the local mini mart ! If you need extra advice, you can order a special free Man's Guide to Buying Flowers too !), but if you want a really impressive and totally unique gift idea to blow your loved one's socks off, I think this puzzle is an absolutely fabulous idea. It shows that you've really put some thought into it instead of just going for the easy option of chocolates or flowers.
Find-me-a-gift will create a unique map jigsaw puzzle for you, focusing on a special place - maybe the place you had your first kiss or your first argument or went on your first date ! As they explain : "These unique, made-to-order 400 piece map jigsaws centre on your place of choice – perhaps where you first met, got engaged, or tied the knot. The result is an intriguing street or Victorian puzzle that will draw on your local knowledge and map-reading skills. For an added personal touch, why not customise the box lid too?"
You have a variety of map-types to choose from, depending on the location. The Ordnance Survey Landranger and Streetview Mapping bases are available for all of mainland Great Britain. The Victorian and Aerial bases are only available for England and Wales. The London Street map base is only available for Greater London inside the M25.
The 400 piece jigsaw measures approximately 47cm x 31cm and is made of high quality 1.5mm quality Millboard. There is an area on the box lid for you to write a description, title or message so it's ideal for your romantic Valentine's Day message ! Ordering is easy - you just put in an address and postcode and this automatically becomes the centre of the puzzle. The scale: 1:50 000 (which equates to 1.3 inches for 1 mile) so you see a fascinating amount of detail.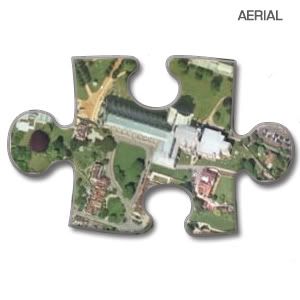 I think these would be a great gift idea for wedding anniversaries, birthdays or just to keep a nostalgic reminder of your home if you go for the aerial view, but you should be warned, at the moment they're only being introduced for a limited time as a special Valentine's Day gift idea. You can opt for next day delivery but because each puzzle has to be made especially for you, it will take up to 10 days to make during the off peak season and 14 days during the peak season. In other words, get your skates on if you want this in time for Valentine's Day !
I love the fact that it's a quirky, highly original and totally unique gift idea and that nobody else in the world will have one just like you !
star rating : 5/5
RRP : from £25.11
Other reviews you may be interested in :