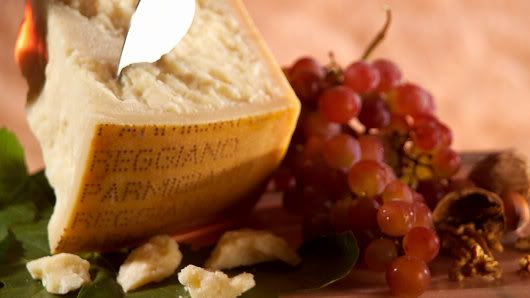 We always have a sachet of grated parmesan in our fridge because a steaming bowl of pasta just isn't the same without it (in fact, the girls sometimes ask for pasta with just butter and parmesan as a quick option for tea !). I've also recreated the delicious Chicken Parmesan that we discovered in the States and I love using a mixture of parmesan and breadcrumbs to coat homemade chicken Kievs. But I must admit that I never really think to do anything particularly exciting with it. I was therefore really pleased to be sent these delicious recipes to try out and share with you.
***************************************
This easy pasta dish depends on fine ingredients to make it taste so special.
Serves 4
100g (4oz) Parmigiano Reggiano, plus extra, to serve
400g (14oz) linguine or spaghetti
25g (1oz) butter
1 bunch spring onions, finely chopped
4 tbsp dry white wine
150g (5oz) frozen petit pois or garden peas, thawed
100g (4oz) Parma ham, torn into strips
Salt and freshly ground black pepper
Basil leaves, to garnish
· Grate the Parmigiano Reggiano finely and set to one side
· Cook the linguine or spaghetti in plenty of lightly salted boiling water for six to eight minutes until just tender, or follow the pack instructions
· Meanwhile, melt the butter and gently fry the spring onions until softened, about two minutes. Add the wine and let it bubble up for a few moments, then stir in the peas and heat gently for one or two minutes
· Reserving three tablespoons of the cooking liquid, drain the cooked pasta. Return it to the saucepan with the liquid. Stir in the spring onion and pea mixture, Parma ham and Parmigiano Reggiano. Re-heat gently for a few moments, season, then share between four warm plates or bowls
· Serve at once, with the freshly grated Parmigiano Reggiano and basil leaves
Cook's tip: Make sure that there is extra Parmigiano Reggiano at the table!
***********************************************
Parmigiano-Reggiano and Butternut Squash Soup
This superb soup has a fabulous taste, enhanced by adding the rind from the Parmigiano-Reggiano cheese as it cooks, to extract every bit of flavour.
Serves 4-6
150g (6oz) Parmigiano-Reggiano, with rind
25g (1oz) butter
1 large onion, finely chopped
1 medium butternut squash, peeled, deseeded and chopped into chunks
900ml (1 ½ pt) hot vegetable stock
150ml (¼ pt) milk
Salt and freshly ground black pepper, to season
4-6 slices French bread
Fresh parsley or thyme, Chopped to garnish
· Reserve the rind from the Parmigiano-Reggiano and cut it into chunks, then finely grate the cheese
· Melt the butter in a large saucepan, and gently fry the onion for about three minutes, until softened, but not browned. Add the butternut squash, vegetable stock and Parmigiano-Reggiano rind. Heat until the mixture is just simmering, then turn the heat to low and cook gently for about 20 minutes, partially covered, until the vegetables are soft and tender
· Remove the rind from the saucepan, then transfer the soup to a blender or food processor and add most of the grated cheese, reserving about 25g (1oz) for garnishing. Blend the soup for 15-20 seconds, until completely smooth. Return it to the saucepan and add the milk. Stir thoroughly and reheat until piping hot. Taste and adjust the seasoning
· Meanwhile, toast the slices of French bread, sprinkle the remaining Parmigiano-Reggiano on top and grill until melted. Ladle the soup into warmed bowls, then top each portion with one piece of French toast. Sprinkle with fresh parsley or thyme and a little extra ground black pepper, then serve
Cook's tips: You'll need roughly 500g (1lb 2oz) of butternut squash when peeled and deseeded. If you have any left over, simply roast it until tender to serve as a vegetable with another meal. To store the soup, cool it quickly, then refrigerate for up to three days, or freeze for up to three months.
********************************************************
Roast Cherry Tomato and Pine Nut Tarts with Parmigiano-Reggiano
These tarts are so easy to make as they use ready-rolled puff pastry. They're best eaten whilst warm - a few minutes after they come out of the oven.
Serves 6
1 x 375g (13oz) ready-rolled puff pastry sheet, defrosted if frozen
2 tbsp red or green pesto sauce
75g (3oz) Parmigiano-Reggiano, finely grated
9 cherry tomatoes, halved
Salt and freshly ground black pepper
Beaten egg or milk, to glaze
2 tbsp pine nuts
Shavings of Parmigiano-Reggiano, to garnish
· Preheat the oven to 200°C / fan oven 180°C / Gas Mark 6. Lightly grease a large baking sheet
· Unroll the puff pastry sheet and cut into six equal rectangles. Using a sharp knife, score a border within each pastry rectangle about two cm (¾ inch) from the edge, being careful to avoid cutting right through the pastry. Place on the baking sheet
· Spread the inner rectangle of each piece of pastry with a little pesto sauce, and then sprinkle the cheese on top. Share the tomatoes between the tarts, then season with salt and pepper to taste
· Brush the pastry edges with beaten egg or milk, then bake for about 15 minutes. Sprinkle the pine nuts over the tarts, and then bake for a further four or five minutes, until the pastry is risen and crisp. Cool for a few minutes, then serve, garnished with shavings of Parmigiano-Reggiano
Cook's tip: Add a little Parma Ham or pepperoni for a tasty variation.
Other reviews you may be interested in :