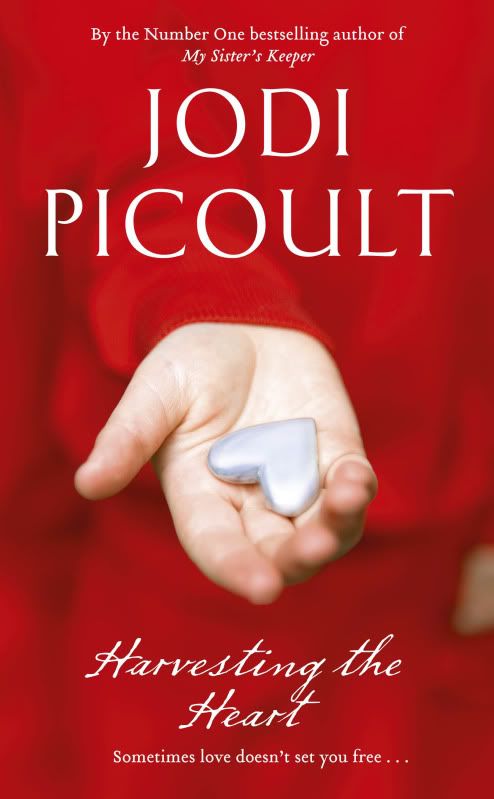 This is the first time I've read a novel by Jodi Picoult but I'd heard a lot of good things about her work so I had high expectations. I didn't really have any idea of what genre of writing she specialises in - and I have to say, after finishing Harvesting the Heart, I still don't really ! That's not to say I didn't really enjoy it though !
The book is told from two alternate viewpoints although by an external narrator each time. We meet Paige and Nicholas who, despite all the differences in their upbringings and personalities, fall head over heels in love. Nicholas has had an easy life with his wealthy parents, carefree lifestyle and blossoming medical career as a heart surgeon. Paige on the other hand has come from the school of hard knocks - her mother abandoned the family home and disappeared from her life when she was five, she fell pregnant at eighteen and ran away from home herself after having an abortion, a decision which haunts her every waking moment. But opposites attract and Paige and Nicholas complement each other, even if his parents cut him off when he refuses to change his mind about marrying her.
When Paige falls pregnant, this happy balance is thrown off kilter and Nicholas' all-consuming job leaves her to deal almost single-handedly with their son Max. Paranoid that she'll be a bad mother like her own, quite probably suffering from post-natal depression and experiencing that sheer panic that all new parents will recognise at having a little being totally dependent on you and not having a clue on what to do, Paige follows what she sees as her destiny, abandoning her own family and taking some much-needed time out to find her mother and ultimately herself, before feeling ready to resume her life as a wife and mother. But are her husband and son ready to welcome her back with open arms ?
I have loved every minute of being pregnant and being a mum but, even though I never experienced the baby blues myself, I could still totally relate to Paige's sentiments as a new mum. She's a complicated character as it's easy to condemn her actions for upping and leaving a 3-month-old baby but we also want to applaud her for giving the slightly-macho Nicholas a taste of her own medicine ! I know there have been times when I've felt sorely tempted to do the same (but take off for a few hours, not months, I hasten to add !!). All of the characters, even the minor ones, have hidden depths if you look beyond the surface, just like the hidden drawings in Paige's artwork.
It's a book that all women will love, but it goes beyond the classic boundaries of chicklit so it's an emotional rollercoaster of a novel because we're not guaranteed the typical chicklit happy ending. As this is a book looking at (amongst other things) relationships between mothers and their children, this would make a fabulous Mothers' Day gift for all those bookworm mums out there.
star rating : 4.5/5
RRP : £16.99
Hardcover: 480 pages
Publisher: Hodder & Stoughton (14 Oct 2010)
ISBN-10: 0340923016
ISBN-13: 978-0340923016
Other reviews you may be interested in :