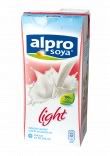 Soya milk is one of those things that I always thought I'd hate without ever actually trying it. Then we were sent a selection of Alpro Soya products to try out and were gobsmacked at just how tasty the chocolate and vanilla desserts were (see the review
here
), so I came to this review with an open mind. I popped the carton of soya milk in the fridge to come back to.
I had a quick look online and you can basically use soya milk in the same way as normal milk. On their website, Alpro Soya say : "Start each day with Alpro soya. Made with soya bean goodness and naturally low in saturated fat, it is a source of calcium and vitamins. With a deliciously light creamy taste, Alpro soya makes the perfect partner poured over breakfast cereals and in smoothies or cups of tea."
We had the "light" version, which is described as "a fresh tasting, reduced calorie blend of water and soya beans with calcium and multivitamins." The perfect opportunity to try it came up last week when I was making mashed potato, which I always finish off with oodles of butter and milk to make it lovely and creamy. I poured a small amount in a glass to taste, before sloshing it into my mash, just in case it was disgusting ! I dipped a finger in, had a taste and was amazed at how sweet it was - it tasted almost like caramel to me ! The colour looked caramel-coloured to me too, but I had a look at the carton and it seemed to be regular soya milk so I bit the bullet and stirred it into my mashed potatoes. The result was a bit too sweet for my taste, so I balanced it out with barbecue seasoning, garlic salt and black pepper and the girls ended up saying it was the most delicious mash they've ever tasted and could they have some more please - result !
Now that I've sat down to write the review, it all makes more sense. I've just looked at the Alpro Soya website and they have a whole range of soya milks available - Junior, original chilled, original longlife, unsweetened, light, light sweetened, organic, as well as vanilla, chocolate and strawberry. The pack that we had (as shown above) is in fact the Light Sweetened 1L (long life) carton, with added Fructose-glucose syrup, which would explain why I thought it tasted sweet. My one criticism would be that it isn't at all clear on the pack that this is the sweetened version, even when you go looking specifically for a mention of it on the label.
It's a pleasant-tasting milk alternative which is low-fat, low calorie and cholesterol-free so it's a good option for everyone, whether or not you need a lactose-free diet. I wouldn't personally drink it straight from the carton but I don't like the taste of normal milk either, but as a replacement for milk in cooking it gets a thumbs up from me.
star rating : 4/5
RRP : £1.35 for 1 litre
Other reviews you may be interested in :