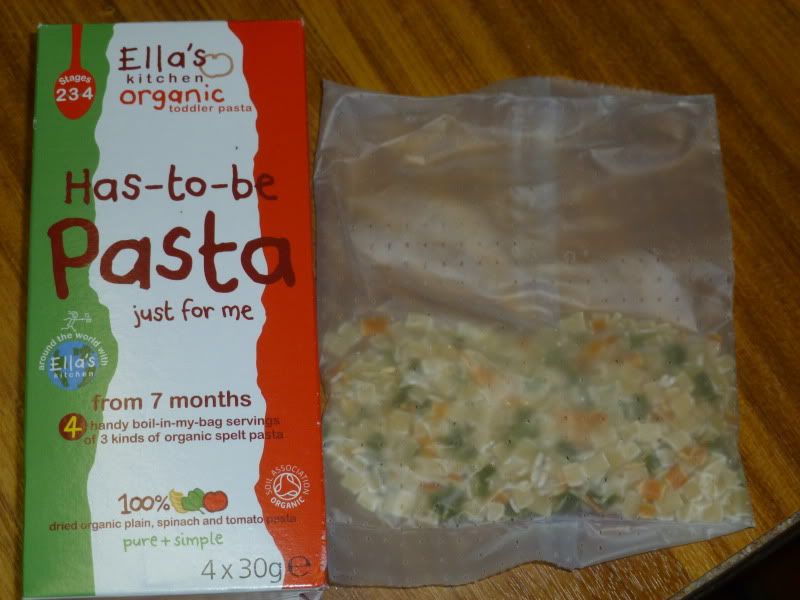 Along with the Ella's Kitchen rice that I have just reviewed (
here
), they kindly sent me some Has-to-be pasta just for me, suitable for babies aged 7 months plus, to try out with Pierre. Like the rice, it comes in really handy single-serve boil-in-the-bag sachets that are great time-savers.
Again, the tiny bite-sized pieces come in an assortment of interesting colours which really appealed to Pierre - not to mention myself because I was impressed at the multicoloured pasta representing the colours of the Italian flag (although I think this is more by accident than design !). So where do the different colours come from ? Artificial colourings ?
Oh, go and wash your mouth out with soap and water ! This is Ella's Kitchen, so perish the thought ! The ingredients list contains Organic spelt pasta 70% (organic spelt flour), Organic spelt tomato pasta 17% (organic spelt flour and tomatoes), Organic spelt spinach pasta 13% (organic spelt flour and spinach), Other stuff 0%. Nothing but organic goodness.
So, on to the most important part - the taste test. Well, I think the photos say it all really ! And the tiny pieces stick nicely to the spoon so Pierre actually manages to get some into his mouth when he insists on feeding himself. Definitely a bonus in my book !
star rating : 5/5
RRP : £1.26 for 4 x 30g
Other reviews you may be interested in :