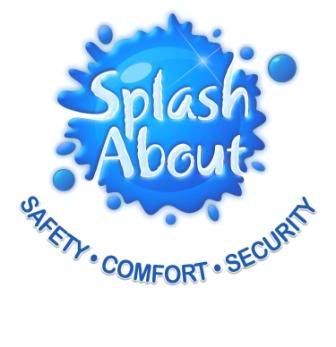 Splash About, who celebrated their 10th anniversary last year, can be considered an expert in producing not only essential but also extremely funky products to protect babies in and around water. Drawing on over 20 years experience, the team at Splash About pride themselves on making children's lives safer, easier but also fun.

One of their top products is the Happy Nappy and they sent me one to test out with Pierre. As they explain, "The stylish Happy Nappy, the only nappy made compulsory in UK baby swim schools, comes in a selection of bright colours and prints, and a range of sizes that fit most newborns to toddlers (XS - XXL)." We received a funky brightly-coloured turquoise Happy Nappy with lime green trim which is absolutely adorable and will look perfect both at the local indoor pool but also for splashing about in the sun in Turkey this summer. Pierre loves pointing at the "Hello there!" crab on the front and grinning !
They have a wide range of colours and designs available that will cater to all tastes, so you can let your little one be a total trendsetter both in and out of the water ! The contrasting bands of colour may look ultra-funky but they are also totally functional as they fit snugly around baby's chubby little thighs to stop the contents of his nappy leaking out into the pool (which, let's face it, is every parent's worst nightmare !).
The Happy Nappy is really soft and stretchy but also feels very tough and hardwearing and almost rubbery to the touch. As they explain on their website : "They are made of 1mm supple, stretchy neoprene and finished with super soft, snug fitting, deep bands of fabric with a high rubber content to keep all nasties inside. Designed by us with swim teachers, parents and babies in mind! So simple and yet so effective, no ties, no Velcro, no elastic. IT WORKS!! Can be worn with or without a conventional swim nappy - a liner is advised for ease of cleaning. Tested and improved upon with the leading UK swim teachers."
You can use the Happy Nappy on its own, with a disposable swim nappy or as part of a complete Happy Nappy system, along with a NappyWrap (a soft, white cotton nappy wrap held in place with velcro) and Nappy Liner (supersoft, biodegradable and flushable). Splash About explain : "It's an easy system to use. Simply take off the Happy Nappy and remove the NappyWrap. Tip contents of the Nappy Liner into a toilet or bin. If you use the Happy Nappy again immediately, just rinse through and then roll it up in a towel and give it a squeeze to remove any water. The Happy Nappy should be rinsed well in cool water after use and the NappyWrap can be machine washed." It dries out really quickly.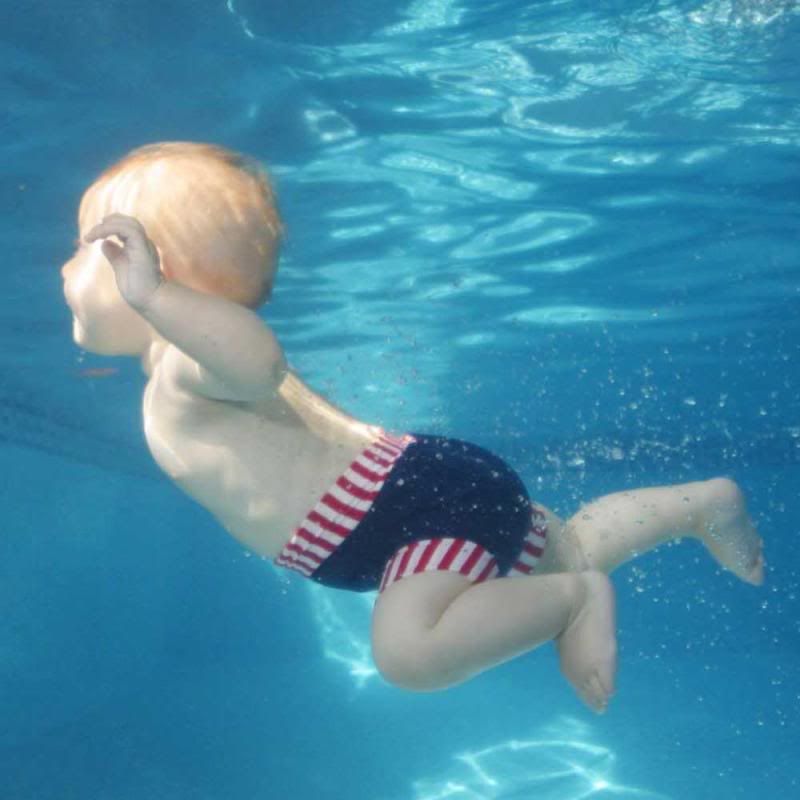 The Happy Nappy sits snugly around Pierre's thighs without cutting in or leaving red elastic marks on his skin. He seems totally at ease and the nappy doesn't inhibit his movements at all, neither in or out of the water. It also offers SPF 50+ sun protection, which is an added bonus. All Splash About products have been tried and tested by qualified swim teachers but they also get a big thumbs up from us here at the Madhouse too !
star rating : 5/5
RRP : £9.99
Other reviews you may be interested in :