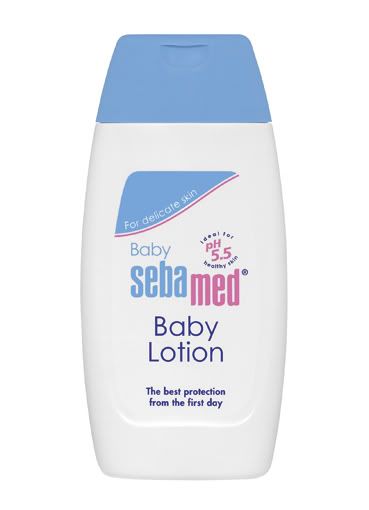 When I looked at the packaging, I have to admit that nothing particularly leapt out at me about this baby lotion. The clinical white packaging with gentle baby-shades of blue and pink, promising "the best protection from the first day", seems pretty standard and not particularly eye-catching.
But I decided to give it a fair go and squeezed some out on to the back of my hand. It's quite runny and has a delicate fragrance that is typical for baby products. I rubbed it into my skin, expecting to feel a greasy residue, but what I really love is that - like the hand sanitizers - if you rub your hands together for a few moments, it totally disappears without leaving any greasiness or stickiness at all.
The packaging clearly explains all the healing and calming properties of SebaMed. "Baby Sebamed Baby Lotion safeguards baby's delicate skin against dryness. Its moisturizing and emollient complex with 7% lipids is rapidly absorbed without greasy residue. The active ingredients allantoin and camomile recutita extract counteract inflammation and irritation. Moisturizers enhance the skin's hydrolipid balance making it smooth and supple." Its great for dribble rash and protecting baby's sensitive skin against the cold and wind, soothing any redness or soreness.
It's a product that should be used over a period of time to help "promote the build-up of the skin's protective acid mantle". I'd never heard of the term acid mantle before but the packaging explains : "Healthy skin has a biological, slightly acidic surface, called the acid mantle. The delicate skin of a newborn is lacking this protective acid mantle, which is established during the first few months of life. Only if the skin has a pH value of 5.5 is it able to safe-guard against penetration of pathogenic micro-organisms and harmful environmental influences. Baby Sebamed has been especially formulated to consolidate the resistance of baby's skin."
It's also been adopted by 9-year-oldSophie, when she gets the odd flare up on her arms and legs or chapped skin in the cold weather, and I love rubbing it into my hands after rubbing it into Pierre's skin so it's actually a good all-round family product.
Other reviews you may be interested in :