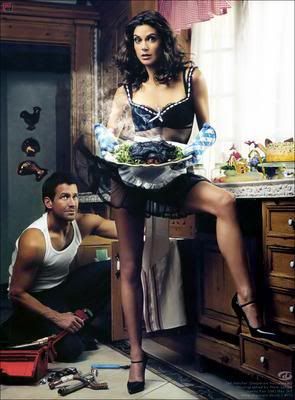 Well, I may spend half my life feeling like one of the Desperate Housewives but sadly, I have yet to find a local plumber who looks anything like Mike Delfino ! But I have just found the perfect excuse to post a picture of the gorgeous Wisteria Lane resident (I'm taking about Mike but I'm sure all my male readers will be more interested in ogling Susan !) - the search is on for Britain's Favourite Plumber ! More details below and make sure you nominate your favourite local plumber !
************************************************
Homeowners around the UK are being urged to nominate their number one plumber in the search to find 'Britain's Favourite Plumber'. Launched by plumbing merchants, City Plumbing Supplies to celebrate and recognise plumbers across the country, the winning plumber will receive a Peugeot Partner van worth £10,000 and £1,500 worth of product from City Plumbing Supplies' iflo range. Homeowners could also win £250 worth of high street retail vouchers if their nominated plumber is shortlisted.
Plumbers can also be nominated and voted for by their colleagues as well as nominate themselves if they feel they go beyond the call of duty for their customers.
Nominating and voting is simple and takes only seconds online.
John Frost at City Plumbing Supplies explains the reason for looking for Britain's Favourite Plumber: "With so many excellent skilled tradesmen out there, we decided it was time to acknowledge the effort and expertise that often gets taken for granted or is under rated. Not only does the award give plumbers from across the country the opportunity to be recognised for their hard work, but for the winner it will also make a big difference to their business."
If a plumber you know deserves to be awarded the title of Britain's Favourite Plumber, nominate or vote now at www.cityplumbing.co.uk/awards. The closing date is 31st March 2011.
Other reviews you may be interested in :