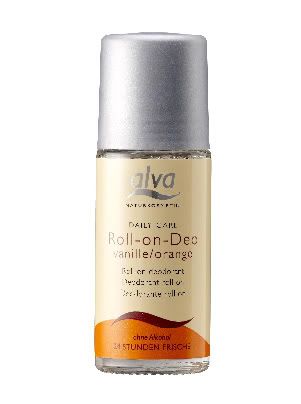 Deodorants are always hard to buy. I like the idea of a natural deodorant that works with my body rather than just clogging up my sweat ducts with artificial nasties but I don't want to have to put up with underarm wetness. Oh, and it has to smell great too !
Well, the Alva Daily Care Vanilla/Orange Roll-on Deodorant ticks all the right boxes. As they explain on the mypure website : "Alva Daily Care Roll-on Vanilla & Orange Deodorant is an alcohol-free & aluminium-free roll-on crystal deodorant which helps prevent body odour and underarm wetness for up to 24 hours. Himalayan crystal salt, aloe vera, comfrey and an extract from chamomile make them skin friendly.."
The vanilla and orange scent is very sweet and actually reminds me of baking cakes ! It's not overpowering though as it's very light so it's perfect for young girls. In order to avoid having to mix fragrances, they've coordinated the scents of their whole range of products so you can buy shower gels to match their body lotions and roll-on deodorants too.
I don't often buy roll-on deodorants as I dislike the feeling of wetness and stickiness straight after application. The Alva Daily Care roll-on does feel cold and wet but this only lasts for a couple of minutes and I was impressed at how quickly it dries. It's very effective at keeping me dry all day too.
star rating : 4.5/5
RRP : £7 for 50ml
Other reviews you may be interested in :