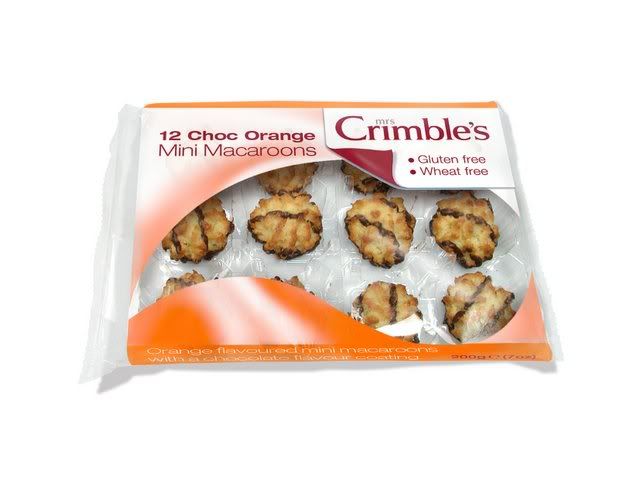 I have a confession to make. When I was given the chance to review Mrs Crimble's Mini Choc Orange Macaroons, I'd never heard of them. I was therefore surprised to learn that

Mrs Crimble's started over 20 years ago and that more than one of Mrs Crimble's Choc Macaroons is sold every second ! Definitely time to find out what I've been missing out on all this time then !
Although these macaroons were specially created for Christmas, they fit in perfectly with the New Year healthy eating kick that many people undertake because they are a very reasonable mini size. As the manufacturers explain, they are small enough not to be sinful while being yummy enough to feel like a real treat. They are also perfectly sized for children.
I love the nickname that they have been given in the trade. They are affectionately referred to as 'dot coms', because they are small (like dots) and their initials are COM - Choc Orange Macaroons ! Top marks to whoever thought that one up !
Time for the all important taste test - hmmmmm ! They're deliciously light, taste really fresh and the zingy orange, exotic coconut and decadent chocolatey tastes are perfectly balanced. They taste so good that I was amazed to see that they're gluten-free so anyone suffering from Coeliac disease will absolutely love them. Juliette said they taste fluffy like eating clouds, but I don't know how she knows that ! They are slightly dry so they go really well with a cup of tea or coffee, and we can vouch for the fact that they are absolutely delicious with a mug of hot chocolate too.
Mrs Crimble's products can be found in all good independent farm shops, health stores, delicatessens and in supermarkets such as Sainsbury's, Asda and Tesco
Other reviews you may be interested in :