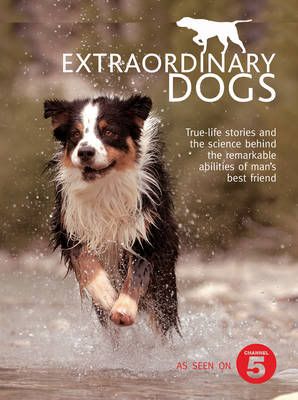 I thought I knew quite a lot about dogs. We always had dogs at home, right from when I was a kid, and now we've got two mini Maltese. When Vicky had puppies, I even helped deliver a couple of them and had to look after eight tiny puppies for a couple of months until finding them new homes ! But even so, I still learnt loads of new information in this fascinating book, which ties in with the Channel 5 TV series of the same name.
I actually thought it would appeal to my 9-year-old daughter Sophie more than me, as she's a bookworm and also loves animals, but I haven't been able to put it down since I started flicking through. We all know that dogs are said to be man's best friends and that they can help humans in a number of ways, such as guide dogs, hearing dogs and avalanche rescue dogs. But I had absolutely no idea that some dogs can detect cancer, predict when someone is about to have an epileptic fit or pick up on someone's blood sugar levels dropping too low. I knew dogs were used to sniff out drugs, but never dreamed that they are also used to detect environmental hazards like fire ants and poisonous cane toads to protect the biodiversity. Is there anything they can't do ?!
The book is not too text heavy so it's great for young or reluctant readers. As well as giving a fascinating insight into the biology that explains their impressive capabilities, the book offers 38 real-life tales of heroic dogs helping, saving or protecting humans. There are also an enormous amount of colour photos that show the kind of things these superhero dogs get up to, as well as introducing a variety of lesser known breeds.
Dog-lovers and dog-owners will love this fascinating glimpse into the intelligence of their animal friends, but even those who don't particularly like dogs can't help but be moved and impressed by some of these heart-warming tales of canine bravery and skill.
I've been totally sucked in and just can't put it down now ! It doesn't look particularly impressive at first - it's a relatively small soft-backed book - but it is absolutely packed with fascinating tales and beautiful photography.
star rating : 4.5/5
RRP : £9.99
Paperback: 128 pages
Publisher: Quadrille Publishing Ltd (4 Feb 2011)
Language English
ISBN-10: 1849490007
ISBN-13: 978-1849490009
Product Dimensions: 22 x 16.6 x 1.6 cm

Other reviews you may be interested in :