Don't fancy another "romantic meal" in a crowded, noisy, expensive restaurant? Staying in is the new going out this Valentine's Day – here are a few sizzling natural health product recommendations by Nutri Centre Head Nutritionist, Shona Wilkinson, to help you and your partner get in the mood for love !
******************************************
Irvingia Gabonesnsis (£24.95)
Derived from wild mango, this wonder product helps to increase the release of sexual hormones through the conversion of sex steroids in fat tissue.
With half hour sex sessions burning up to 150 calories, Irvingia Gabonesnsis will not only make you want to have more sex, but will also help you to burn more calories in the process!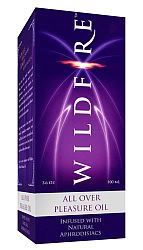 Wildfire All Over Body Massage Oil
Wildfire sensual massage oil brings together some of the world's most exotic, natural aphrodisiacs, including Jojoba, Ylang Ylang, Sandalwood, Tribulus, Muira Puama and Rose Geranium. These are all synonymous with romance and have been used for centuries as natural passion enhancers.
The ingredients are then infused with high quality olive oil to create a luxurious, silky and sensual massage oil and lubricant.
RRP: £19.99
Sex, Love and Health by Brigitte Mars
Brigitte Mars discusses common concerns, such as erectile dysfunction, prostate health, STDs, and reproductive disorders, recommending natural remedies and solutions. Sex, Love & Health is a guide to finding and keeping love, and enjoying a lifetime of health-enhancing sex that only gets better over time.
RRP: £15.99
Products are available from Nutri Centre stores nationwide


And ... watch this space for a very cheeky giveaway coming up right here very soon to spice up your Valentine's Day ! Ooh là là !!!
Other reviews you may be interested in :