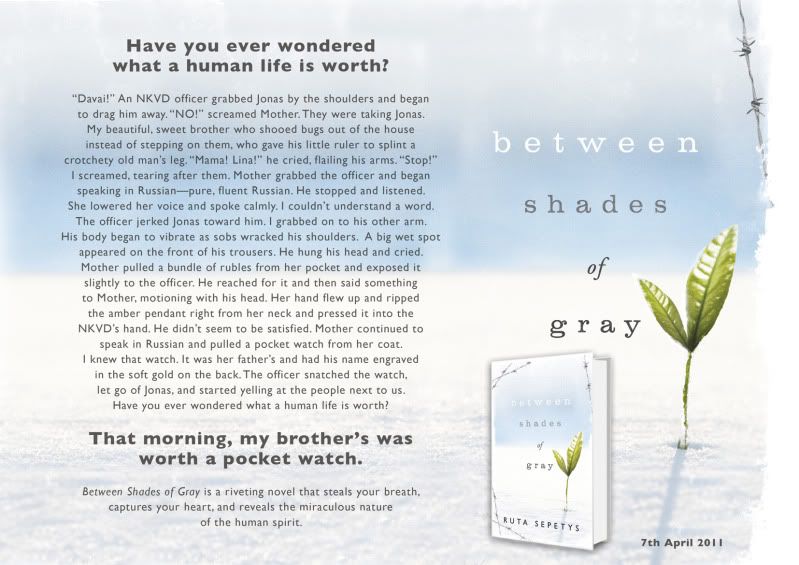 Published in Penguin Paperback on 7th April 2011, priced £6.99
*** US rights currently sold in 22 countries ***
A heart-wrenching read from an incredibly talented new author offering an original and personally-charged look at the story of Stalin's genocide of the Baltic people during the Second World War – a part of world history that is too often overlooked.
Between Shades of Gray is a riveting novel that steals your breath, captures your heart, and reveals the miraculous nature of the human spirit.
In 1941, the nations of Lithuania, Latvia, and Estonia disappeared from maps and did not reappear until 1990, during which time Stalin enforced ethnic cleansing and deportations of entire populations.
A few years ago, during a trip to Lithuania to meet with relatives, Ruta Sepetys discovered that some of her extended family members had been deported to Siberia.
Set in 1941, Between Shades of Gray is an extraordinary and haunting story based on Ruta's first-hand family accounts and memories from survivors. This personal connection allows for an intimate portrait of the characters and further exploration into the deeper themes of the triumph of hope and survival over suffering and oppression.
The central character, Lina, uses the method of art and journal writing to record and come to terms with history, bringing to the novel some of the distinctive qualities of The Diary of Anne Frank.
Have you ever wondered what a human life is worth?
And look out for a review coming up right here shortly.
Other reviews you may be interested in :