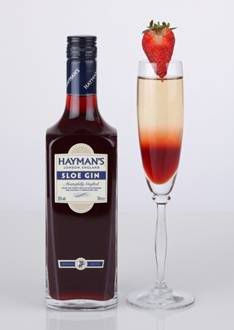 Sloe gin is one of those drinks that I've always heard of but never tried. I've tried normal gin before but never really knew if Sloe Gin had the same taste or not. I wasn't even entirely sure what sloe gin is made from - aren't sloes like plums or damsons or something ? Well, when the opportunity came up to sample Hayman's Sloe Gin, I decided to give it a go to get some answers to all of these questions.
The drink itself is an attractive deep red colour and it smells nice and fruity and not eye-wateringly strong. Off to a good start then. Time for the taste test. Now, normally I'd drink gin with a mixer but I decided to try the Sloe Gin neat, at least at first to see what the taste is like. It reminds me slightly of sherry - it's very sweet but sharp, slightly warming but doesn't give you the unpleasant burn in your throat that stronger spirits do (it has an ABV of 26%) and it's really fruity.
I decided to head online to do some investigating. First of all, I decided to find out more about the Hayman's label. They explain : "Hayman's Sloe Gin might be relatively new to our world but in fact the Hayman family have been making it for hundreds of years and until recently kept the lot for themselves. The Hayman family know a lot about Gin, the original company of Hayman Distillers was founded in the 1800's by James Burrough, the great Grandfather of the current Chairman, Christopher Hayman. James Burrough created the world renowned Beefeater Gin. Two centuries later The Hayman family now proudly distil their range of premium Gins under their family name."
So what exactly is sloe gin (or should that be slow gin ?!) ?
"

It takes great care and, as you'd expect, lots of time to create Sloe Gin. Carefully selected wild English grown sloe berries are gently steeped for several months with Hayman's Gin before being blended with natural sugar, creating a rich ruby red liqueur with smooth and intense bitter sweet fruit flavours. Sloe Berries are a type of wild plum and are harvested from the blackthorn tree and native to Europe."
Ah, so I was right when I thought it had something to do with plums then !
So how is it supposed to be drunk ? It's got such a lovely fruity flavour that I'm sure it would make a great ingredient for cocktails. Well, Hayman's have actually come up with a cocktail in honour of the impending Royal Wedding, called the Sloe Royale. (It's that impressive-looking drink in the picture at the top of the page.) "Simply shake Sloe Gin with fresh mint and serve with dry Prosecco, garnish with a strawberry. Berry tasty!"
star rating : 4.5/5
RRP : from £17.66 for 70cl
Other reviews you may be interested in :