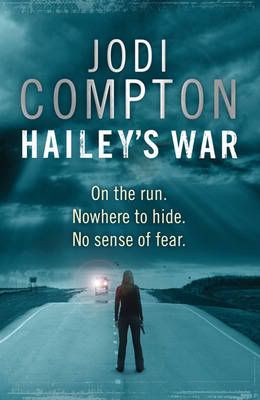 It's time to meet Hailey Cain, fast-talking and fast-shooting leading lady in the fast-paced new thriller Hailey's War. That's a lot of fasts in one sentence but it's also a fast-read because it's totally unputdownable !
It starts off relatively slow, and I wasn't really sure where it was going to go. We see bike courier Hailey walking on the Golden Gate Bridge and convincing jumpers not to commit suicide. We see scenes from her childhood with her cousins and learn that she dropped out of prestigious military academy West Point, although we don't really know why. We learn that she run over a child who ran out in front of her and that this child turned out to be the beloved son of a ruthless hiphop producer. We learn that her best friend at school is now the leader of a tough girls' gang. But we can't help but wonder how all of these threads are going to pull together into one coherent whole.
When Hailey agrees to drive a young Mexican girl across the border to her grandmother's remote village, it seems like just another thread that won't really lead anywhere. But when the girls are ambushed and Hailey is shot and left for dead, her whole life starts helter-skeltering out of control and all of the loose threads start intertwining like a complicated spider's web with Hailey in the middle.
I read an awful lot so a lot of plotlines and "unexpected twists" start to ressemble each other, but in this novel, on more than a few occasions, I was totally surprised by the way things panned out. Some of the events seemed a little unbelievable but the final twist in the tale does actually justify and explain this to some extent.
I would have liked to have discovered more about Hailey's time at West Point or delved deeper into the lives of some of the fascinating secondary characters, especially her family, the gang members and the intriguing figure Marsellus, but Hailey's War is the first in a new series featuring this unpredictable, multi-faceted new heroine so I'm sure these aspects will be further developed in future episodes. I'll certainly be looking out for the next book in the series when it is published next year.
star rating : 4.5/5
RRP : £6.99
Paperback: 304 pages
Publisher: Pocket Books (9 Dec 2010)
ISBN-10: 1847393764
ISBN-13: 978-1847393760
Other reviews you may be interested in :