When I was asked to write a review for Heavenly Cakes, I smiled at the name, thinking it was probably a bit of OTT marketing. Then a box of samples arrived and everybody in the family oohed and aahed, saying that they looked really posh and could we cut them all into bits so that everybody could taste all of them because it was just toooooo hard to choose just one to taste otherwise ! When we actually sat down to eat them, oh my goodness - these really are the kinds of cakes I could imagine golden-haired angels munching happily away on, perched on fluffy white clouds ! Definitely a heavenly taste ! These have to be even better than something rustled up by Bree on Desperate Housewives - definitely better than my home-made offerings anyway (which, I might add, always get the thumbs up from everyone in the house !)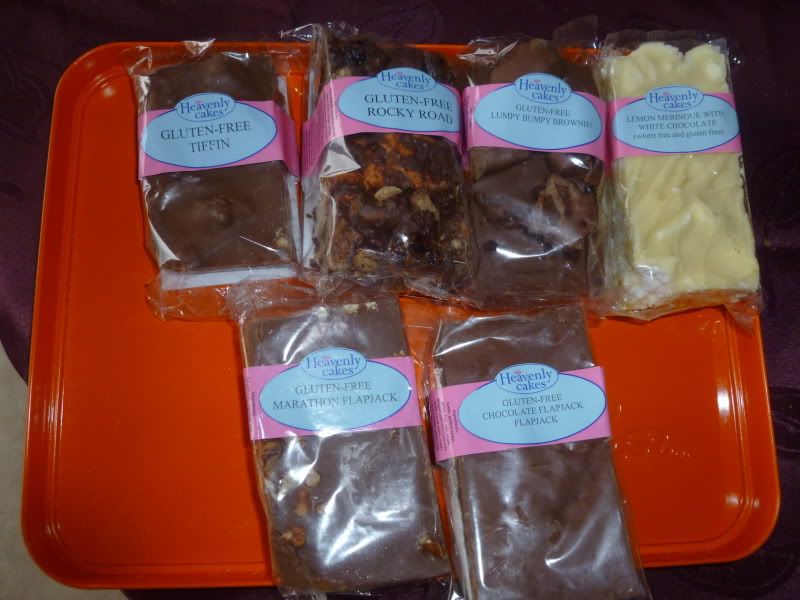 As you can see from the picture above, we received six delectable goodies to sample : Gluten-Free Tiffin, Gluten-Free Rocky Road, Gluten-Free Lumpy Bumpy Brownie, Lemon Meringue with White Chocolate, Gluten-Free Marathon Flapjack, and Gluten-Free Chocolate Flapjack. Even the names had us all salivating. Not to mention the thickness of the chocolate and the gooeyness and the "imperfect" bumpy homemade appearance of the cakes that just makes them even more appetising. They look more like something you'd buy on a WA cake stand than a mass-produced cake from the supermarket shelves.
I went off to the Heavenly Cakes website to investigate and instantly fell in love with the retro theme and the funny strapline, "Forget love, I'd rather fall in chocolate" ! They proudly proclaim that there are no nasties, no preservatives, no colourings and that they make cakes like mum used to make.
Betty Bakes, the retro domestic goddess on the website, explains : "I insist we only use good honest natural ingredients like real, local free-range eggs, British butter, flour & sugar and real Belgian chocolate. You won't find any nasties in any of our milk and dark chocolate brownies, millionaires shortbread, gluten free chocolate cakes and flapjacks! I find they taste much better that way. Ordering is frightfully simple, and I insist our cakes are despatched as soon as possible...so you'll be enjoying them before you can say 'Lumpy Bumpy'. How nice!"
I could actually write this review without using a single word - the photos speak for themselves. Have I got you salivating yet ?!
I kept one of the cakes back just for me - the White Chocolate Lemon Meringue one - as a quick treat to keep me going in between my long day teaching followed by a long parent-teacher evening last night and hid it in my school bag ! (Which is just as well, because when I got home, the naughty Madhouse Daddy had finished off the last one without even asking me - he's definitely in the Mad-dog-house for that !!)
You know those cheesy adverts for chocolate bars where you see someone unwrapping a bar, taking a nibble and, with a little moan of pleasure, being transported away to a dreamy, relaxing, blissful mental world while they eat. Well, that just about sums up the Heavenly Cakes tasting experience ! They're the kind of treats that make you want to slip off your shoes and stretch out on the sofa for a few minute's uninterrupted me-time. Absolutely delicious !
I actually had to come back to the wrappers to check, because the cakes are so delicious, I had a hard time believing they are gluten-free - but they are ! If you want some really original cakes to try out, they have some quirky twists on old classics too, so you might like to try the lavender shortbread or chilli brownie !
When (it's pointless saying if, they're totally irresistible !) you click through to buy, you have a choice of gift pack (
6 generous portions in a lovely presentation pack - £6.50), family pack (12 large portions, enough to keep everyone happy - £14) or bars pack (

6 individually wrapped bars - £8.40). The only hard part is deciding which of the delicious recipes to try out first !
RRP : 5/5 (if only I could give them more !)
RRP : £6.50 for 6 portions, £8.40 for 6 bars or £14 for 12 portions
Other reviews you may be interested in :