I love it when I click around online and keep finding loads of really interesting things to blog about ! That's what happened today on the Morphy Richards "
Home of the House Proud
" website so it's definitely a site worth keeping an eye on. After telling you all about the
£4 Slow Cooker Challenge
, then discovering that you can actually make
cheesecake in a slow cooker
, I discovered the existence of the World Ironing Championships 2011 ! There are three categories : Quickest shirt, Quality of Finish and (my favourite !) Style and Flair. Read on for more details.
*****************************************************************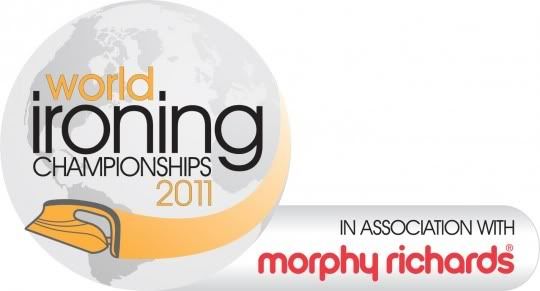 Are you proud of your ironing skills? Well if you are, this is the competition that you've been waiting for!
Here at Morphy Richards, we've launched a worldwide search to find the most skilled ironing experts. We're looking for the speediest ironers, perfect shirt pressers and most stylish and creative crease removers to crown as World Ironing Champions in the first ever World Ironing Championships, in association with Morphy Richards.
Can you iron a shirt in double quick time, or flawlessly press a shirt fit for royalty? Or perhaps your ironing style and flair is something that everybody should see! Well, if you've got what it takes, you could be in with the chance of winning £500 and more importantly, a limited edition and fully operational Morphy Richards golden iron! For details of entry, please scroll down the page.
Show us your impressive ironing skills by sending us a video (details below) for one of the three disciplines:
•Quickest shirt
•Quality of Finish
•Style and Flair
To help us to unearth the world's top ironing talent, we've teamed up with some of the country's most proficient ironing experts to help us launch each discipline, show you how it's done and challenge you to rival their skills in your videos.
*****************************************************
Ummm I think I'll stick with the slow cooker challenge !
Other competitions you may be interested in :