The brand new five-part series The Great British Food Revival airs weekly on BBC TWO from Wednesday 9th March at 8:00pm. In each programme a renowned TV chef champions a great British produce which is under threat and in serious need of putting back on the food map.
The series harnesses the power of the BBC's food talent with ten chefs involved in the campaign. James Martin shows his support for heritage apples while Michel Roux Junior puts a case for the revival of real bread. Michel Roux Junior says: "Making the series has opened my eyes to just how important it is that some of Britain's best produce isn't forgotten. We need to put it back on our shopping lists and back on our plates."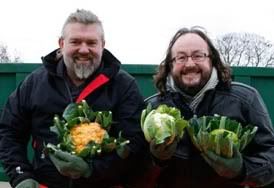 The Hairy Bikers get behind the revival of the cauliflower while Clarissa Dickson Wright puts forward her argument for rare breed pork. Others involved in the campaign include Gregg Wallace, Angela Hartnett, Ainsley Harriott, Matt Tebbutt, Glynn Purnell and Gary Rhodes.
In addition to highlighting the problems facing many of our traditional British crops and investigating the plight of the produce, the chefs also cook three mouth-watering dishes that feature the ingredient they are championing.
The series will run as 5 x 60 minutes on BBC TWO. The episode line-up is as follows :
Episode 1 - Michel Roux Jr on Bread & The Hairy Bikers on Cauliflower
Episode 2 - Gregg Wallace on Potatoes & Clarissa Dickson Wright on Pork
Episode 3 - James Martin on Apple & Matt Tebbutt on Mutton
Episode 4 - Ainsley Harriott on Honey & Glynn Purnell on Cheese
Episode 5 - Gary Rhodes on Tomatoes & Angela Hartnett on Crab
There is also an accompanying book, which I have reviewed
here
.