19-month-old Pierre has been a happy bunny lately as he's been busy testing out some lovely toddler snacks from Plum's new range. And mum's happy too because I know that Plum will have magically managed to make these delicious little treats into something packed with goodness rather than junk. As they say on their website, "No added sugar and nothing but wholegrains and natural flavour - you can see why we call our wholesome snacks 'super'!"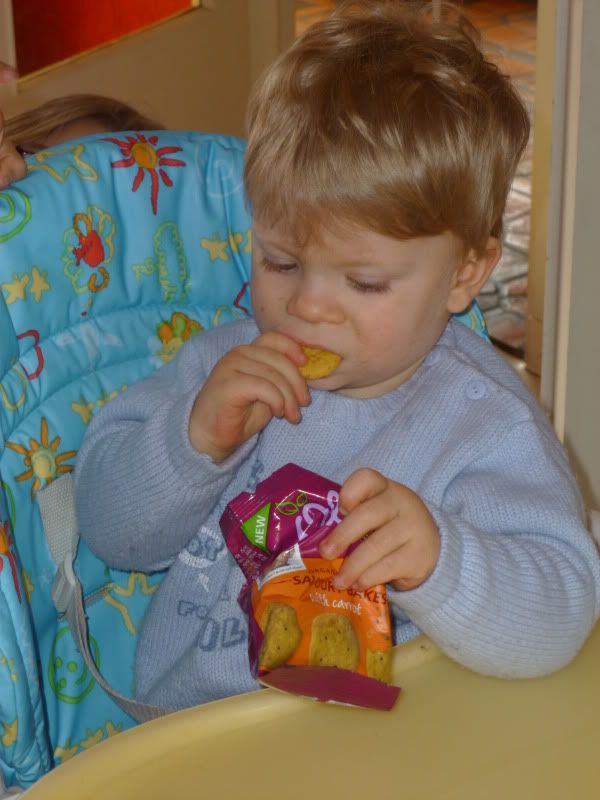 The Savoury Bakes that he was trying out today come in two different flavours, Parmesan and Carrot, and as you can see from the photo, he loves them. The little individual bags contain 25g which is the perfect size for a toddler snack and absolutely ideal for slipping in your handbag for avoiding a tantrum when your little one starts getting tired and hungry when you're out and about. Pierre loved the idea of holding the bag and feeding himself like a grown-up and it actually made it really easy for him to get hold of each biscuit.
He decided he wanted to share the love and fed a couple to big sister Juliette, who also thought that they were delicious, despite being well out of the target age group ! I had a taste and found them a bit bland but that's adult tastebuds for you when there's no added salt !
The ingredients list is reassuringly free of anything suspicious. For the Parmesan variety, it's : Organic spelt wheat flour 36%, Organic wholegrain wheat flour 35%, Organic spelt syrup 9%, Organic sunflower oil 8%, Organic cheese 7% (Levanto hard cheese 5%, Parmesan cheese 2%), Organic palm oil 4%, Organic spring onion 1%, Raising agent sodium bicarbonate, Thiamin. Not an artificial additive in sight, which is brilliant.
Plum has received industry recognition and won numerous awards for its products, most recently: 'Product Launch of the Year'- The Grocer 2010, 'The One to Watch' - Prima Baby 2010, Silver Baby Food Range - 4+ months range – Practical Parenting 2010, Silver Baby/toddler Snacks - Savoury Snacks – Practical Parenting 2010, Bronze Baby Cereal – Four Grain Porridge - Practical Parenting 2010, Commended – Fromage Frais - Soil Association Awards 2010.
I can add to that a huge thumbs-up from Pierre, which is undoubtedly the most important of the lot !
star rating : 4.5/5
RRP : £1.99 for 4 x 25g bags
Other reviews you may be interested in :