I love sharing easy ways to help charity with you so I thought I'd share this press release with you about Comic Relief. There's even news of a competition to win comedy gig tickets so make sure you read all the way through ! I had a good laugh about the grown ups checking for monsters under the bed or saying good night to their toys before going to sleep. I'd have to count prodding my other half to stop him snoring and trying to extract the remote control from his hand amongst my list of "strange bedtime routines" - what about you ?!
********************************

Breathe Right Asks The Nation To 'Do It In Your Sleep' For Comic Relief
With the UK's 1st ever 'lie down' Comedy night just around the corner - Breathe Right finds out who we'd most like to wake up next to!
For the first time ever you can raise money for Red Nose Day 2011, in your sleep! This year, Breathe Right has joined forces with Comic Relief and they're asking the nation to 'DO IT IN YOUR SLEEP'! Quite simply, wear a red nose strip at night and raise money whilst snoozing! To get us giggling in our jim-jams, Breathe Right is holding the UK's first ever 'lie down' comedy gig at the prestigious Leicester Square Theatre in London where the likes of Russell Kane, Peep Show's Isy Suttie and Alun Cochrane will be putting on their slippers and hopping under the covers to perform sets from their bed to raise money for Comic Relief.
The nation's first ever 'lie down' gig is being held at 7.30pm on 28th February at the Leicester Square Theatre, London and if you want to join in the laughter 200 free tickets to the gig are up for grabs at www.facebook.com/doitinyoursleep.
With Breathe Right launching limited edition red nasal strips to raise money for Comic Relief - it was hard to resist finding out which celebrity we'd most like to catch forty winks next to.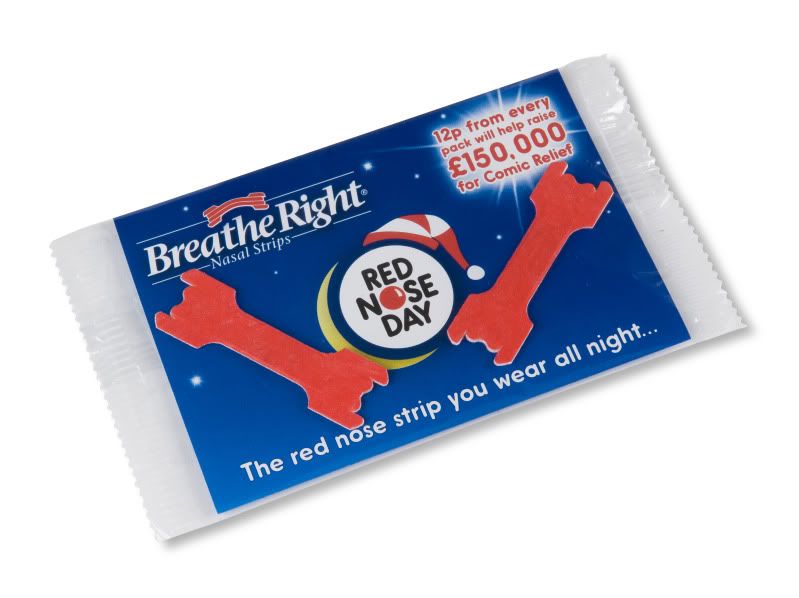 *Most men said they'd most like to wake up next to Kelly Brook (46%), yet opinion was much more divided on who they'd like to have a laugh with in the bedroom; with some men opting for long term supporters of Comic Relief, Dawn French (19%), Jo Brand (11%) or Miranda Hart (9%).
*28% of women said they'd like to wake up next to Oscar nominated actor Colin Firth, but almost a quarter (23%) said that northern comic Peter Kay would be better for a chuckle in the bedroom
*Over half of respondents (51%) said that they'd prefer their bedroom buddy to be funny or have good banter, than be good looking (21%)
The Breathe Right survey also delved into the nation's strangest night time routines, and found that, bizarrely, some adults still check underneath their beds for monsters before they go to sleep, and say goodnight to their soft toys.
Headliner at the UK's first ever 'lie down' comedy gig, and Let's Dance star, Russell Kane says, "This is one of the easiest ways to raise money for Comic Relief, a charity that supports so many worthwhile causes. There should definitely be no excuses, everyone should 'DO IT IN THEIR SLEEP' by purchasing the limited edition red Breathe Right strips and get snoozing! People can also raise money by joining me at the UK's first 'Lie-down' comedy gig - log onto facebook.com/doitinyoursleep to apply for free tickets!"
'DO IT IN YOUR SLEEP' with or without the nations preferred celebrity 'bedroom buddy', by purchasing a £1 limited edition pack of red Breathe Right nasal strips, with at least 12p from every pack helping raise at least £150,000 for Comic Relief. The limited edition strips are available to buy via GSK Direct or leading retailers nationwide.
By raising cash this Red Nose Day, you're helping to change lives forever. That's because Comic Relief spends all the money raised by the public to give extremely vulnerable and disadvantaged people in the UK and Africa a helping hand to turn their lives around.
The limited edition strips will be sold in packs of two for £1.00 and are available to buy via GSK Direct or leading retailers nationwide
Research conducted by OnePoll on behalf of Breathe Right amongst 1,500 UK adults aged 18 and over from 02.02.11-03.02.11
Full gig line-up: Russell Kane, Alun Cochrane, Isy Suttie, Iain Stirling, Chris Ramsey
Other blogposts you may be interested in :