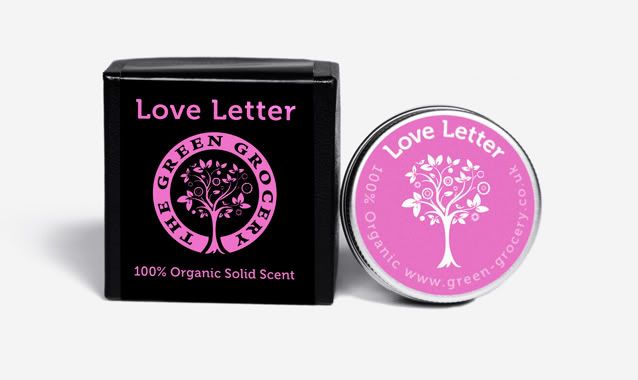 Are you still looking for an original and eco-friendly Valentine's Day gift for next week ? Well, the romantically-named Love Letter solid scent from The Green Grocer would be perfect. It looks beautiful and, as soon as you start unwrapping it, smells gorgeous too.
The heart notes of rose and jasmine, combined with a base note of sandalwood and a head note of rose geranium, create a heady, natural, floral fragrance that gives you the impression that you're wandering through a beautiful English rose garden. It's flirtatious, girly, timeless and oozes romance.
The solid scent is 100% organic and avoids the risk of allergic reactions that alcohol-based liquid perfumes may provoke, but it should be avoided by pregnant women or breastfeeding mums due to the jasmine content which may be harmful. It is handmade and hand-blended in small batches using traditional production methods - a process which takes over two weeks, starting with the infusion of the essential oils to enable the deeper notes to develop before combining with cocoa butter and wax and being left to solidify.
I also love the fact that it's a totally local company to me so I get added Brownie (or should that be Greenie ?!) points for keeping down my carbon footprint. The Green Grocery is a small independent business, focusing on organic beauty and skin care products, based in Battle, East Sussex, just up the road from Hastings (and the actual site of the famous Battle of Hastings). Their products are available from The Natural Beauty Rooms and 37 London Road, Kingston (as featured on BBC2's 'Mary Queen of Shops'), Soak in Hastings, Plenty Provision in St. Leonards On Sea, Uniquely Organic in Hove, and online from The Green Grocery, The Green Apple, Ethical Community and Mollycoddles.
Now, I just have one word of warning. The little box looks just about the same size as an engagement ring so, if you're not yet married, please make sure your other half doesn't get the wrong end of the stick and get all excited about an imminent proposal ! The solid scent is a gorgeous gift but, if she opens it expecting a diamond ring, it might have trouble living up to expectations !
star rating : 4.5/5
RRP : £9.99
Other reviews you may be interested in :