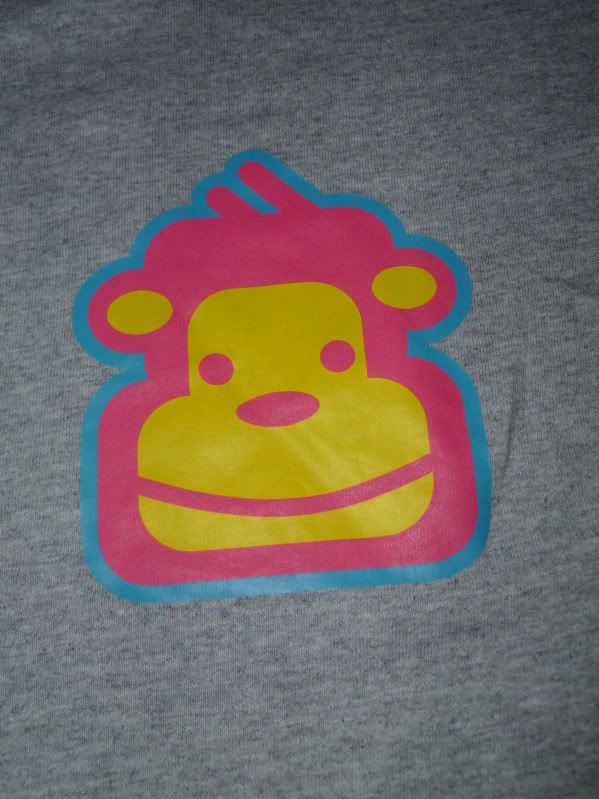 A little while ago, I was asked if I'd like to review a Tshirt from Tshirtprinting.net. It was a bit of a random request as I had no idea what the Tshirt would have on it but I thought why not ! I had a lovely surprise when it arrived because it had this ultra-cute, brightly coloured cheeky monkey logo on it.
The T-shirt they sent is a lovely soft, grey cotton Tshirt. You can feel it's good quality because it's quite thick and it holds its shape well. I've purposely waited for the Tshirt to go through the wash a few times before writing this review, even throwing it in the tumble drier to see if the printed design starting peeling off or cracking, and it's still in pristine condition. You should be aware that the sizes are generous. I ordered XL to be on the safe side and am now wearing it as an ultra comfy nightshirt as it's a bit big as a Tshirt.
Tshirtprinting.net explain on their website that they screen print personalised, bespoke T shirts, hooded tops, sweatshirts and workwear. They have a wide range of colours, styles and sizes (for kids and adults). They say : "Over the years we have screen printed everything that we could have imagined and some which really did take us by surprise. Premium fashion brands have used our services, countless football teams, fast food chains and many a stag and hen party organiser has walked away with a smile after collecting their custom T shirts." They promise competitive prices, fast turnaround times and high quality printing for quantities from from 12 to 100,000 (so doublecheck you've typed the number right or you could be in for a nasty surprise !).
The only thing I'm not keen on is the website, which I find hard to navigate and lacking in information (I don't think it really represents the funky, high quality clothing they can produce) but for the Tshirt itself, I can't fault it.
star rating : 5/5 for the Tshirt, 3/5 for the website
Other reviews you may be interested in :