**** Don't miss the chance to win a St Patrick's Day shirt for your dog right
here
on my blog ! ****
This press release made le laugh so I just had to share it with you. I saw a little dog kitted out in waterproof coat, hat and wellies yesterday on my way to work which made me smile too ! Enjoy !
******************************************
Dogs celebrate St Patrick's Day in style!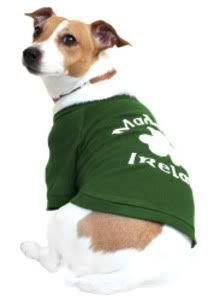 Dogs across the world can join in the celebrations this St. Patrick's Day with a new selection of themed clothing by dog retailer specialists UrbanPup.com. This Irish based website specializes in high-street clothing for stylish dogs and is launching its latest St. Patrick's Day collection to respond to a growing demand by pooches who want to show their Irish pride in style and make their other canine counterparts green with envy!
Denis Kelly of UrbanPup.com says, 'The St. Patrick's Day Collection includes a selection of Irish themed green and white t-shirts and hoodies with designs including a shamrock leaf and slogans such as 'Kiss me OI'm Irish', '100% Irish', 'Made in Ireland' and 'Lick me I'm Irish' with prices from this collection starting at £12.95.'
The UrbanPup.com St. Patrick's Day collection doesn't just stop at dogs, owners can get in on the themed action too and keep up with their dog's stylish look by choosing from a selection of matching t-shirts so no one gets left out of the celebrations!
UrbanPup. Com is a Northern Ireland based online retailer and specialises in high fashion outfits and accessories for dogs. Every UrbanPup.com t-shirt is made in Ireland from 100% cotton for a snug and comfy fit for you and your puppy. UrbanPup.com provides the fashion conscience with stylish unrivalled couture for pets. The range provides all the clothing and accessories that a dog would ever need from stylish coats and pretty dresses to stunning lead & collar sets. Each piece of clothing has been personally selected based on its design, quality and overall fashion appeal.
***********************************************
Matching shirts for dogs and owners - love it !!!
Other reviews you may be interested in :