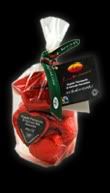 If your partner gave you a bag of these red foil-wrapped, heart-shaped chocolates for Valentine's Day, at first glance, you'd be forgiven for thinking that they came pretty low on the originality scale. But these are no ordinary chocolates. They are another offering from fyi - feed your imagination - (who I reviewed
here
) who produce therapeutic mood-altering chocolate.
You actually have two options. The Little Bites Choose your Mood Hearts sachet contains 12 heart-shaped chocolates in each of the Choose Your Mood flavours, namely Beautiful, Dreamy, Lovely, Sexy, Sensual, Fantastic, Seductive, Gorgeous, Mistress, Yin, Yang and Fruity. If you're not feeling quite so adventurous (or if you're in the early days of your romance and don't want to get a slap for offering your loved one a chocolate called Mistress!), you can opt for the Little Bites Traditional Hearts sachet, containing the (slightly !) more standard flavours of Milk, Dark and Secret. Oooh intriguing ! And definitely more exciting and original than a box of chocs hastily grabbed off a supermarket shelf.
I've been sampling the Traditional Hearts (but I did try out the Choose Your Mood flavours in my other review). They are all delicious, although I have to admit that I'm not quite sure what the secret of the "Secret" ones is ! I bit into them expecting a soft centre or a weird and wonderful flavour and they just taste like normal, albeit smooth and delicious, chocolate to me. Maybe it's just because you don't know if you'll get milk or dark chocolate ? After sampling the Choose Your Moods varieties, I have to say it was a bit of an anti-climax.
Either way, the chocolates are delicious, the mood-enhancement aspect adds an element of fun and the packaging is absolutely perfect for Valentine's Day (or any other day of they year that you want to be romantic).
star rating : 4/5
RRP : £4.99 for 12 x 10g
Other reviews you may be interested in :