A few months ago, I discovered the company Inch Blue when I was send a pair of their adorable sheepskin Cwtches to review (a review you can see
here
). Well, when I was asked if I'd like to review another pair of their shoes, I browsed through their collection of original and funky designs. As soon as I saw these shoes, I fell totally in love with them. However patriotic you may or may not be, the Union Jack is such an iconic symbol that it pops up all over the place, in artwork, soft furnishings, clothing, just about anywhere really. And with the royal wedding a matter of weeks away, I'm sure we'll be seeing even more Union Jack products on the shelves. You can turn your tiny tot into a trendsetter !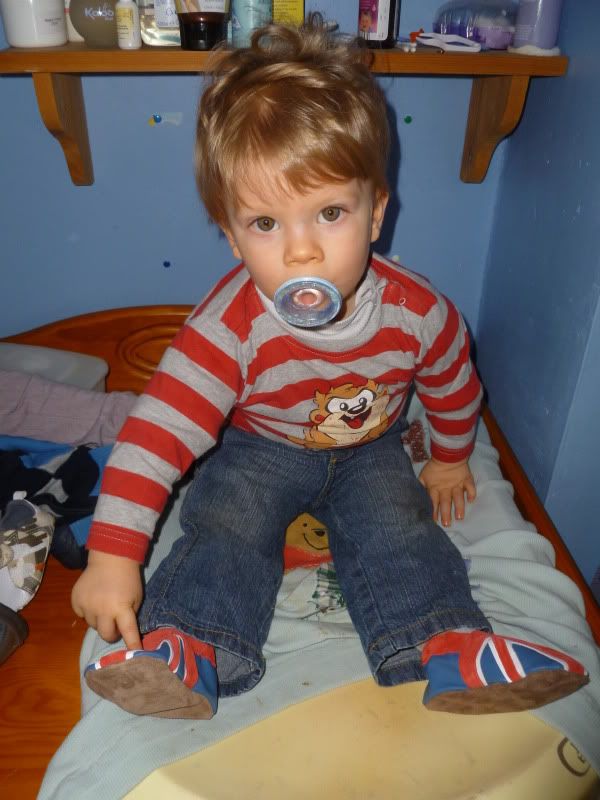 19-month-old Pierre usually doesn't like keeping things on his feet. He can't manage to pull his lace-up shoes off (most of the time !) but slippers or socks last a matter of minutes. But strangely, I put these Union Jack slippers on his feet first thing this morning and they were still firmly attached on his feet when I put him to bed. When I went to get him out of his cot after his afternoon nap, I actually laughed out loud because he'd pulled off his trousers but still had his slippers on ! I don't know if he put them back on after removing his trousers or if they stayed put, but it did look funny !
Part of the reason why he likes them so much seems to be the colour scheme. The bright colours attract his attention and he can't stop looking at his feet in them, as this photo clearly shows !
But I think it's also the fact that they are so lovely and soft. The leather is really soft and supple and also really well stitched - I pulled on all the seams to check ! They are also totally non slip. Pierre has only been walking for the last week so he's still a bit wobbly but he has been gaily toddling around the house all day, across carpet, lino and tiles, and hasn't slipped over once. The slippers even stayed on when he got down on all fours and crawled across the floor, which usually results in his slippers falling off instantaneously.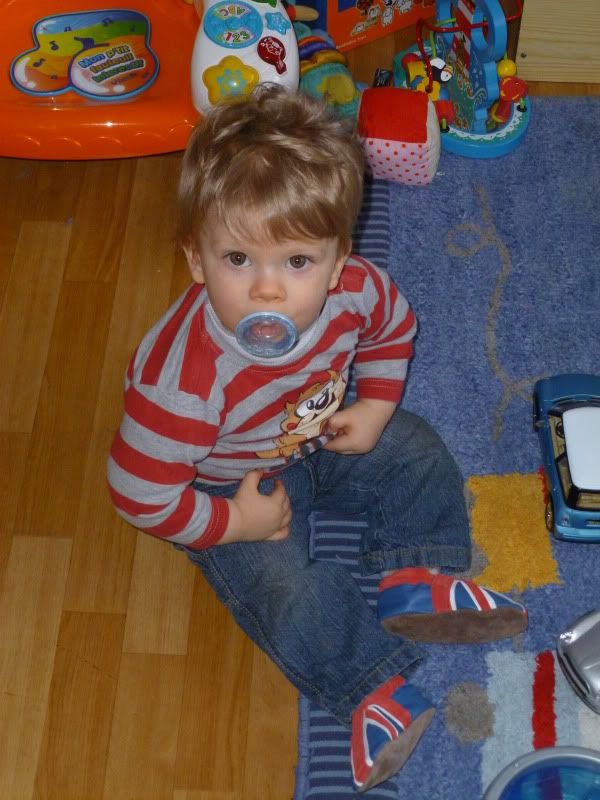 A bit of investigating on the website reveals that the shoes are in fact hand crafted, which is probably what makes all the difference in quality. They explain : "Welcome to the Inch Blue world of fun and adorable soft leather baby shoes. In a world of mass produced goods INCH BLUE is an oasis for lovers of originality, quality and fun design. [...] We are a family run business with 2 kids, a dog, a cat and bees. We're based in South Wales on the edge of the Brecon Beacons. [...] Fun, fresh designs in bright colours is probably what Inch Blue are best known for. All of our shoes are designed and hand crafted in Wales. With over 100 original styles in our range you will be spoilt for choice . . . the only dilemma you will have is making up your mind! Whether your baby is a little monkey or fairy princess we are sure to have a shoe that fits!"
Well, my mind is made up - I absolutely love them ! If you want to give them as a gift, they come in a smart polythene carry bag to make them look even more impressive. They're available in a range of sizes, from small (0-6 months) to small child (24 months +).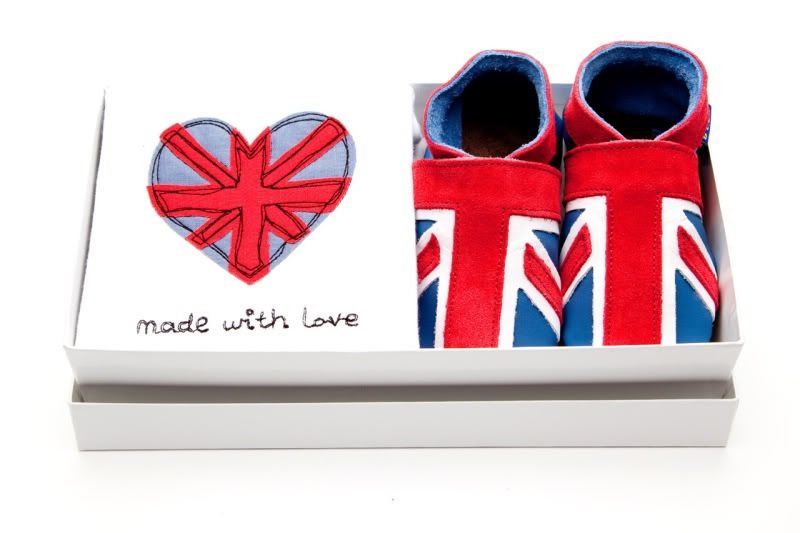 STOP PRESS ! : For the royal wedding, Inch Blue have come up with a gift set, which includes a 100% cotton babygro and Union Jack soft leather shoes, and comes in a luxurious white box. It retails at £32 and comes in Small (0 - 6 months) and Medium (6 - 12 months).
star rating : 5/5
RRP : £17-£18


Other reviews you may be interested in :