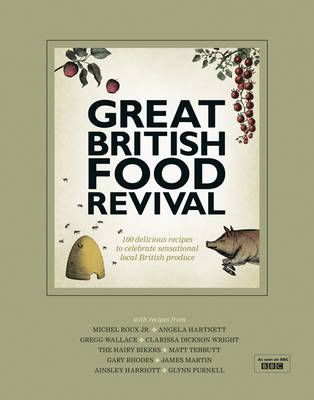 A lot of recipe books are quite daunting. They use complicated cooking techniques, ingredients you've never even heard of and the photos show dishes that look like they need a high level of cooking skill, not to mention vast quantities of cheffy equipment that you wouldn't find in the average kitchen.
Well, when I sat down to flick through the Great British Food Revival cookbook, it was the total opposite. There are so many homely looking recipes that are simple to make with store cupboard basics that I kept going "ooooh look, we make that already" or "oooh we can try that next week". Shepherd's Pie, Tartiflette, Cauliflower Cheese with Bacon and Mushrooms and Potato Dauphinoise are all pretty standard fayre in our house. But I can't wait to try out the recipe for a Sandwich Bread Loaf that looks like it will give you the homemade equivalent of a sliced white loaf, Apple Meringue Pudding and the Apple, Custard & Honey Tart.
Some of the recipes are a complete meal in themselves and have me salivating because they sound so delicious ! Honeyed duck breasts with potato rösti and creamed cabbage and bacon or Slow roast belly of pork with spiced apple and cider sauce and mashed potatoes sound like they come straight off the menu in a top restaurant. But there are recipes for all levels. I'm sure even the worst cook could pull of a Welsh rarebit or a Lancashire cheese and chutney sandwich !
The book ties in with the BBC2 series of the same name (which I just blogged about
here
) and features ten of Britain's best loved chefs. Many of my faves are in there - James Martin, the Hairy Bikers, Ainsley Harriott, Gary Rhodes, Gregg Wallace - but where are Jamie Oliver and Gordon Ramsay ?!
The photgraphy represents not only the dishes you can make but also the background of the ingredienst themselves. The girls were fascinated by the photos showing pigs, honey coming out of hives and the process of making bread from wheat straight from the field. They're quite used to seeing me cooking from scratch and recognise many fruit and vegetables from the fridge, but for kids more used to eating ready-meals straight from the freezer, it's quite educational.
The aim of the book is to make sure some of Britain's delicious traditional and locally-produced ingredients don't disappear from the nation's cooking repertoire so that's good for the environment and the local economy as well as the tastebuds ! I already know that if you come back in six months, this book will be covered in splashes and dribbles and the pages will be well-thumbed. I can't wait to try out at least half of the recipes immediately.
star rating : 5/5
RRP : £20
(but it's only £10 on amazon at the moment so that's just 10p a recipe !!)
Other blogposts you may be interested in :