Today is the start of the Chinese New Year - and this year, 2011 is the Year of the Rabbit. To celebrate, Miffy's author Dick Bruna has designed a series of ultra-cute new Miffy images. In a lovely little twist, Dick was actually born in the Year of the Rabbit, back in 1927 ! Here are some funny bunny facts and figures to go with them to see in the New Year !
1. The Rabbit, also translated as Hare, is the 4th animal in the 12-year cycle of the Chinese Zodiac.
2. People born in the Year of the Rabbit show creativity, compassion, and sensitivity. They are friendly, outgoing and prefer the company of others. They also prefer to avoid conflict. In confrontational situations, Rabbits approach calmly and with consideration for the other party. Rabbits believe strongly in friends and family and lacking such bonds can lead to emotional issues. (Source:
http://www.chinesezodiac.com/
)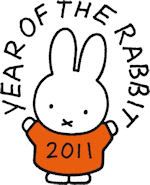 3. Famous people born in a Year of the Rabbit include Miffy's creator, Dick Bruna (1927), as well as the following:
1915: Frank Sinatra, Billie Holiday, Norman Wisdom, Arthur Miller
1927: Andy Warhol, Roger Moore, Sidney Poitier, Dick Bruna
1939: David Frost, Germaine Greer, Ian McKellan, John Cleese, Marvin Gaye
1951: Jane Seymour, Gordon Brown, Robin Williams, Geoffrey Rush
1963: George Michael, Michael Jordan, Johnny Depp, Jose Mourinho, Lisa Kudrow
1975: Jamie Oliver, Angelina Jolie, David Beckham, Drew Barrymore
1987: Maria Sharapova, Blake Lively, Hilary Duff
4. Miffy, the iconic children's character popular throughout Asia and Europe is marking the occasion with 5 special illustrations created by Dutch artist Dick Bruna – now aged 83 but still drawing and writing picture books. The illustrations will appear on merchandise and packaging worldwide.
5. 10 most famous rabbits of all time, in order of creation, include;
• The White Rabbit – featured in Lewis Carroll's Alice in Wonderland (1865)
• Peter Rabbit – created by Beatrix Potter (1902)
• Simply known as 'Rabbit' in Winnie the Pooh (1926)
• Thumper – featured in the Disney classic Bambi (1942)
• Bugs Bunny – made famous by Loony Toons (1944)
• Miffy – created by Dutch author & illustrator Dick Bruna (1955)
• Dillon – character from The Magic Roundabout (1963)
• Watership Down – a book and animated film about a herd of rabbits (1972)
• Roger Rabbit – from the film Who Framed Roger Rabbit (1988)
• Energise Rabbit – created as part of the battery manufacturers advertising campaign (1989)
6. Rabbits can purr like a cat when happy.
7. Rabbits live on average for 10 years – the longest ever recorded lived for 18 years.
8. The average weight of a rabbit is between 2-20lb. The heaviest ever recorded weighed 26lb 7oz.

9. The longest jump featured in the Guinness Book of Records was 3 metres.
10. The largest collection of rabbit memorabilia is held by a couple in California who have over 24,500 items in their home which they have now turned into a Bunny Museum.
(Miffy Illustrations Dick Bruna © Mercis bv 2011)
Other reviews you may be interested in :